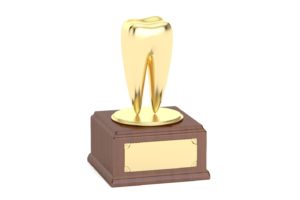 Doctors, dentists, and other professionals often have a lot of acronyms following their names. All of those letters can seem like an alphabet soup! However, they all have significant meanings. For example, FAGD is a very prestigious designation in the world of dentistry, and Dr. Shiloh Lieberman of our practice is proud to have earned it. Learn more about what it means to be an FAGD Capital District dentist and how Dr. Lieberman's accomplishments can benefit you.
What Is an FAGD Dentist?
FAGD stands for "Fellow of the Academy of General Dentistry." It is one of the most prestigious awards in dentistry and it designates that a dentist has achieved true excellence in their profession.
To help you understand the significance of what it means to be an FAGD, we'll first explain what the Academy of General Dentistry (AGD) is. It is an association of more than 40,000 general dentists across North America. It was established in 1952 and has grown to become one of the largest professional dental associations in the world. It helps to educate dentists and holds them to high standards.
To be a Fellow of the Academy of General Dentistry is quite different from being a member of the AGD. Virtually any general dentist can join the AGD, but a Fellow has met rigorous requirements. They must:
Earn a minimum of 500 approved continuing education credits
Pass a comprehensive 400-question examination
Maintain membership in the AGD for at least 3 consecutive years
What It Means for You
As an FAGD, Dr. Lieberman has demonstrated his commitment to excelling in his profession. This benefits patients of our practice in numerous ways:
Lieberman keeps up with the latest advances in dentistry. You won't have to worry about getting "outdated" treatment.
The fact that he has devoted so much time to continuing education proves that he is serious about being a leader in his field and serious about providing truly top-tier care.
His continued association with the AGD ensures that he will not rest on his laurels. To maintain his membership, he must participate in at least 75 hours of continuing education every 3 years.
Beyond FAGD Certification
Dr. Lieberman's FAGD certification is only one of the many impressive credentials on his resume. He is also a graduate of and has served as a mentor at the Pankey Institute for Advanced Dental Education, and a member of both the American Academy of Implant Dentists and the Dental Organization for Conscious Sedation. He has even received training at the world-renown Las Vegas Institute for Advanced Dental Studies.
We are proud to have Dr. Lieberman as one of the leaders of our team at Capital Smiles. His extensive accomplishments serve as evidence that we are committed to providing only the best dentistry to our patients.
About the Author
Dr. Erin Page and Dr. Shiloh Lieberman are serious about continuing education, and they maintain active memberships in several prestigious organizations, including the American Dental Association and the American Academy of Facial Esthetics. Would you like to learn more about our dentists and our practice? Contact us today at (518) 374-0317.