AcceleDent® for Invisalign® – Schenectady, NY • Capital District
Cut Your Orthodontic Treatment Time in Half
Treatment time with Invisalign can be anywhere from a few months to well over a year. How long your treatment takes will depend on a few factors, including the extent of your dental misalignment and how diligent you are about wearing your aligners. Whether or not you use AcceleDent® will also have a bearing on your treatment time. AcceleDent® is a remarkable technology that can speed up your tooth movements! Keep reading below to learn more about this amazing device.
"Awesome dentist and staff! They're really friendly and made me feel at ease. No judgment, just positive. They took me in quickly as a new patient, and I'm going to continue to move forward with them for all my dental care. Also, I was pleasantly surprised when the dentist personally called me in the evening after my procedure to see how I was doing. Good folks."

Peter V.

Read More Reviews
What Is AcceleDent®?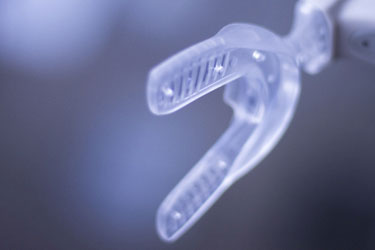 Orthodontic treatments are able to move teeth due to a natural biological process known as bone remodeling. Your jawbone is not a static structure. Rather, cells are always being removed and replaced. During orthodontic treatment, your bone gets reshaped as your teeth move little by little.
AcceleDent® speeds up the bone remodeling process. It does so via the use of SoftPulse Technology. It transmits gentle, precisely calibrated vibrations through the roots of your teeth and into the surrounding bone. The vibrations stimulate cellular activity and make it easier for your teeth to shift into their proper positions.
Benefits of AcceleDent®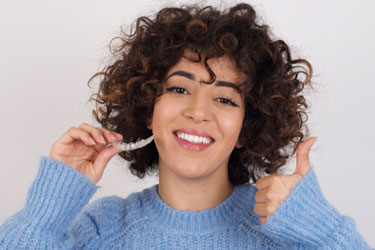 Some of the most noteworthy benefits of AcceleDent® include:
AcceleDent® speeds up treatment. Studies have shown that AcceleDent® can reduce total orthodontic treatment time by up to 50%! In a few cases, AcceleDent® has even reduced treatment time by more than that.
AcceleDent® may reduce orthodontic discomfort. Patients who use AcceleDent® report up to 71% less orthodontic pain than individuals who do not use it.
AcceleDent® is easy to use. It is a portable device that you use in the comfort of your own home, at a time each day that is convenient for you.
AcceleDent® is gentle. The vibrations from AcceleDent® exert about eight times less force than a typical electric toothbrush.
Tips for Using AcceleDent®
If you are interested in using AcceleDent®, the first thing you should do is locate an orthodontic treatment provider who offers it. Here are Capital Smiles, we are proud to feature this technology and prescribe it for many of our patients. Once you receive your AcceleDent® device, it is important that you use it according to instructions. Here are a few tips to help you out:
Try to use AcceleDent® for 20 minutes a day. Using it longer than has not been shown to produce any benefits.
Use the right amount of force. You should bite on the AcceleDent® mouthpiece hard enough to keep it in your mouth without using your hands. But be careful not to bite down too hard; you don't want to cause premature wear and tear on your device.
Get into a routine. Getting into the habit of using AcceleDent® at a certain time each day will make sure you don't accidentally neglect its use. The device is waterproof, so you can even use it during your daily shower!
Use the convenient app. The app is designed to help you track your AcceleDent® usage and stay connected with your dentist.
Would you like to learn more about how AcceleDent® may be able to change the way you think about orthodontic treatment? Contact us today to schedule a consultation!