Denture Stabilization – Schenectady, NY • Capital District
Keeping Your Teeth Securely in Place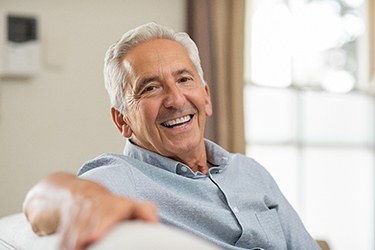 Traditional dentures simply rest on top of the gums. Natural suction or a mild adhesive helps them to remain in place. However, many people find that their prosthetic teeth often tend to slip around in their mouth when they are speaking or enjoying hearty foods. Not only are such slips embarrassing, but they can also be uncomfortable. Fortunately, our team may be able to help your teeth stay right where they belong via denture stabilization in the Capital District.
What Is Denture Stabilization?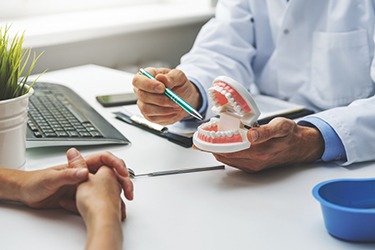 Denture stabilization involves the use of dental implants. Dental implants are small titanium cylinders, sometimes referred to as posts, that we insert into the jawbone. With just a few implants, placed at precise, strategic locations, we can provide an incredibly sturdy base for your prosthetic teeth that prevents them from slipping out of place.
Benefits of Denture Stabilization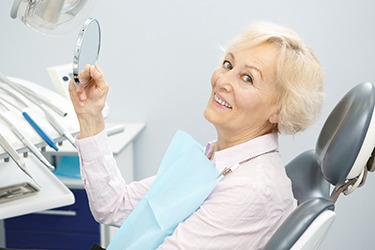 A few of the most outstanding advantages of denture stabilization include:
You will be able to enjoy a greater variety of foods
Dental implants stimulate the jawbone and prevent it from losing volume and mass
Since implants prevent changes to the jawbone's shape, your dentures will continue to fit well for many years
You may experience heightened confidence in social situations
Implant-supported dentures are generally smaller and more comfortable than their traditional counterparts
How Does the Process Work?
First, your dentist will perform a thorough examination to determine whether you are a candidate for dental implants. If you are, you'll undergo a minimally invasive dental implant placement surgery. After your body has had time to recover from the surgery, you will receive a beautiful, comfortable, and long-lasting implant-supported denture.
Types of Stabilized Dentures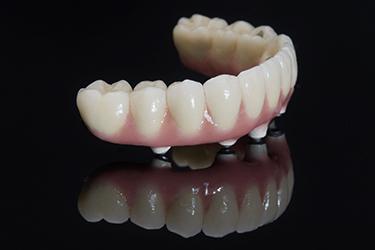 There are a few types of removable implant-retained dentures. For example, you may have a ball-retained prosthetic, which has ball-shaped attachments on the bottom that snap onto concave recesses atop the dental implants. Bar-retained dentures, on the other hand, are held in place via a small metal bar that connects the dental implants.
It is also possible that you will receive an implant-retained denture that is permanently screwed onto your dental implants and only removed when you visit us for professional care.
Why Are Dentures Important?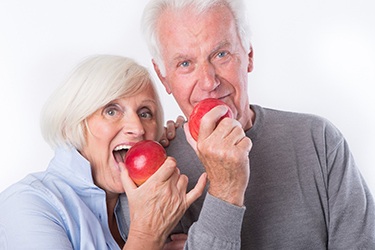 Having secure, well-fitted dentures is important for numerous reasons:
Dentures support your facial structure and help you maintain a youthful appearance
Teeth are part of your body's digestive process; without the ability to chew thoroughly, you could miss out on key nutrients
Without dentures, you may find that your ability to clearly enunciate words is limited
Are you ready to learn more about how dentures stabilization with dental implants may be able to improve your oral health and quality of life? Contact the team at Capital Smiles today.
Denture Stabilization FAQs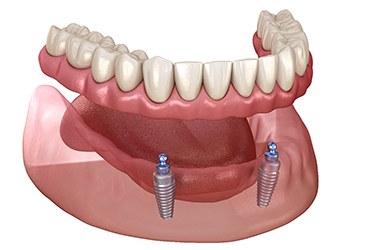 Would you like to experience a stronger bite and longer-lasting tooth replacement? Denture stabilization with dental implants may be exactly what you need. Before you schedule your consultation, however, you might want to learn more. That is why we have put together the following list of frequently asked questions, along with their answers. If you don't see the information you were hoping for, you are more than welcome to contact us directly. We are eager to assist you!
How Many Dental Implants Will I Need?
The answer to this question varies from patient to patient. For some forms of removable implant dentures, just two implants are necessary. However, more implants provide greater stability. Most patients receive at least four dental implants per arch.
How Long Does the Treatment Process Take?
The dental implant process typically takes at least several months, which is due in part to the fact that the implants require time to form a strong bond with the jawbone. If you require preliminary treatment, such as a bone graft, before you get dental implants, you may experience an even longer timeline. We will be able to provide an estimate of how long your treatment may take when you visit us for a consultation. Keep in mind that your patience will pay off — the many benefits of dental implants are worth waiting for!
Can I Use My Current Denture with Dental Implants?
In some cases, it is possible to retrofit a patient's existing denture to work with dental implants. Most of the time, however, we must design a completely new prosthetic. During your treatment planning process, we will discuss the type of denture that we believe will work best for you.
Are There Any Downsides to Getting My Dentures Stabilized with Dental Implants?
The advantages of implant dentures far outweigh any downsides. However, you should still be aware that there is a small risk of dental implant failure (less than 5%). You can keep your risk as low as possible by caring well for your mouth. Also, keep in mind that you will have to have a surgery, which may require you to take a few days off of work.
Who Is a Candidate for Dental Implants?
Most adults qualify for dental implants, either right away or after some preliminary procedures. In general, candidates have fair overall health, are free of gum disease, have a strong jawbone, and are determined to stick to good oral care habits. If you are frustrated with your traditional dentures, it would certainly be worth your time to visit us for a dental implant consultation!
How Long Will My Implant Denture Last?
Traditional dentures usually need to be replaced every 5 – 8 years due to changes in the jawbone's structure. Implant dentures are different. The dental implants help to prevent jawbone deterioration, which means that your dentures will retain their fit for much longer. Dental implants may last a lifetime, and the dentures on top of them typically last for a minimum of 10 years.