Digital Dental X-Rays - Schenectady, NY • Capital District
Caring for Oral Health with Digital Dentistry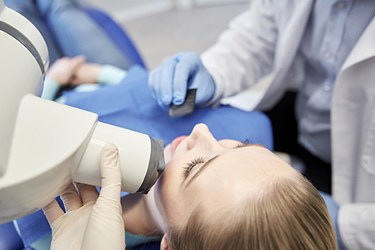 When it comes to preventive care and diagnostics, X-rays are an invaluable tool for your dentist. They allow Dr. Page to see below the visible surface of your teeth and gums to detect the presence or risk of issues like infection, impacted or unerupted teeth, and other oral health hazards. However, conventional X-rays are no longer the most efficient way to capture these images. Digital X-rays are an excellent alternative to traditional radiography -- keep reading to find out more about how they work and why we are pleased to offer this technology to our Capital District patients.
"Capital Smiles is a very bright, modern, exceptionally attractive, and well-equipped office. The staff is extraordinarily friendly, competent, and welcoming. My personal experience with Dr. Page has been the best I have ever had with a dentist... she explains clearly what she will do, she makes one feel very comfortable during the procedure, and the quality of her work is truly exceptional."

Vince A.

Read More Reviews
What Are Digital X-Rays?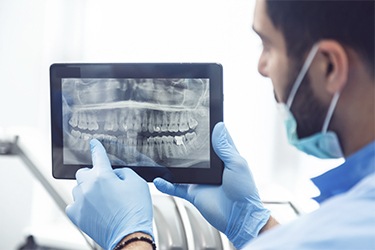 Digital X-ray technology uses a small electronic sensor that is placed inside your mouth near the area to be captured. Within seconds, this sensor takes a digital picture of your teeth and the underlying structures that can then be pulled up onto a screen right by your chairside. Your dentist can use this tool to determine the best course of action and then explain your treatment plan so you can ask any questions you may have.
Digital x-rays are ready almost instantly and use approximately 90 percent less radiation than conventional radiographs. Patients of all ages can have their teeth X-rayed using this technology -- in fact, given the reduced exposure to radiation that digital X-rays produce, it is far preferable for children to undergo this type of X-ray.
Benefits of Digital X-Rays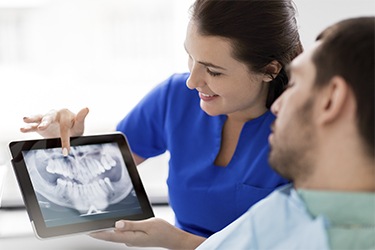 Some of the most significant benefits of digital X-rays compared to the conventional sort include the following:
They are ready almost instantly
Dramatically reduce exposure to radiation
Are a safer option for children, as radiation builds up in the body over the course of a lifetime
Since they can be pulled up right at your chairside, you may find it easier to understand your proposed treatment plan
Digital images are clearer, which leads to better, more informed treatment planning
Can be securely stored in a digital file, making them easier to send to a specialist as needed or pull up in later appointments
Eliminate the need for special chemicals in developing
Preventive Care Is Crucial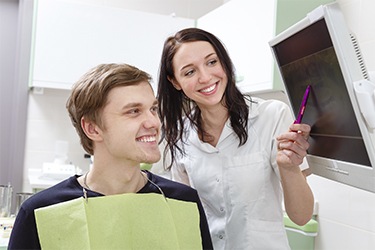 Patients of all ages should have preventive X-rays taken periodically -- and Dr. Page will recommend how often yours should be captured (usually annually). By getting X-rays taken even when you do not think you have an issue, you are helping to ensure that potential issues are caught early so that the most conservative treatment can be administered. Plus, if you have dental insurance, your plan may include one set of X-rays per year.
Contact Us Today
X-rays are an important tool that your dentist uses to keep your smile healthy and strong. If it has been a while since you last had X-rays taken, do not hesitate to contact us to book a checkup and cleaning! You can feel confident that we will safeguard your and your family's health with the use of digital X-rays.