All-Ceramic Dental Restorations - Schenectady, NY • Capital District
Natural-Looking Crowns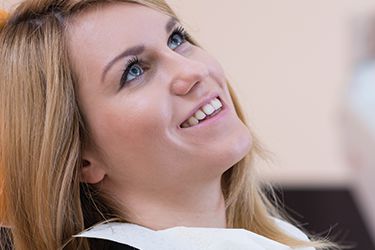 At Capital Smiles, patients shouldn't have to choose between renewing their oral health and maintaining a smile that looks beautiful and natural. You deserve the best of both worlds, and all-ceramic restorations from Dr. Erin Page are the perfect solution. These high-quality crowns, inlays, onlays, and other customized prosthetics are designed to blend in with your remaining tooth structure in a pleasing and comfortable fashion, helping you smile brightly outside of our Schenectady, NY practice. Our team welcomes new patients from Saratoga, NY and other surrounding areas – contact us today to schedule your first appointment!
"I have never felt more comfortable or at ease while being in a doctor's office. The staff at Capital Smiles are all super nice and friendly."

Larry D.

Read More Reviews
Benefits of All-Ceramic Restorations
All-ceramic restorations offer several valuable benefits to patients in need of restorative and cosmetic improvements, including:
The single greatest advantage is the inherent aesthetic quality of ceramic materials. Dr. Page is able to ensure a precise match in shade, shape, and size that blends in with what remains of the natural tooth – in fact, the restoration will even have the same translucent qualities as the original enamel for a uniformly shiny look.
With all-ceramic restorations, patients won't have to worry about a dark metal band forming near their gum line over time, which is a common concern regarding more traditional PFM (porcelain-fused-to-metal) crowns.
All-ceramic restorations possess greater strength and durability than many patients think. With the proper amount of routine at-home maintenance and professional intervention, they can thrive and function properly for many years.
There are some patients who suffer from excessive sensitivities or even outright allergies to common metals used in dental work. All-ceramic restorations eliminate this concern and allow for greater overall comfort and safety. They're only about as abrasive as natural dental enamel, and patients shouldn't experience greater amounts of temperature-related discomfort because of their placement like they would with traditional amalgam.
Request a Consultation Today!
For more information or to schedule an appointment with Dr. Page, contact our Schenectady dental office. Our patients in Troy, Saratoga, Niskyuna, Clifton Park and other surrounding communities in the Capital District enjoy renewed dental vigor with our customized care.