Is your goal to have a beautifully straight set of teeth? You may have considered braces, but dismissed the idea because you didn't want to go the traditional route. Perhaps you are afraid of looking like a teenager instead of a working professional. Or maybe you have an important event like a wedding or a class reunion coming up, and you would rather not be photographed wearing metal braces.
If you can relate to any of these issues, Dr. Page has a great solution. Invisalign® clear braces are a revolutionary alternative to traditional teeth-straightening techniques. Instead of metal wires and brackets, the Invisalign® system uses a series of clear trays to shift teeth incrementally. When you decide on Invisalign®, our doctors will use 3D computer imaging to generate a preview of what your new smile will look like. These images will also help Dr. Page design a treatment plan that's right for you.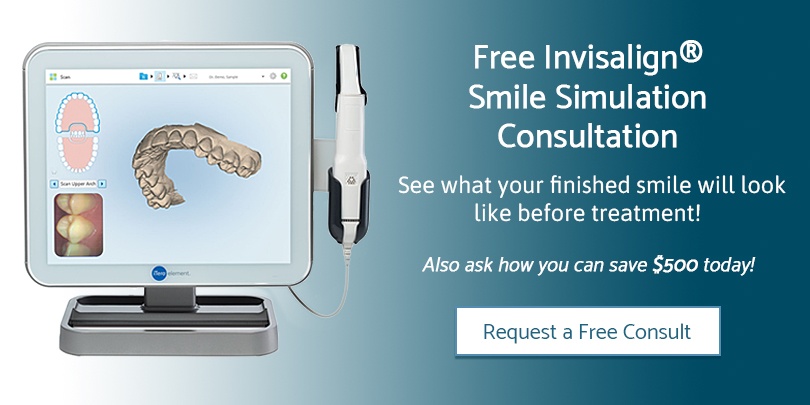 "At first I was unsure whether I wanted to be stuck using Invisalign, but as soon as I started I was glad I did. I couldn't even tell I was wearing them, and what's even better is no one else could either."

Andrew N.

Read More Reviews
Why Choose Invisalign® Clear Aligners?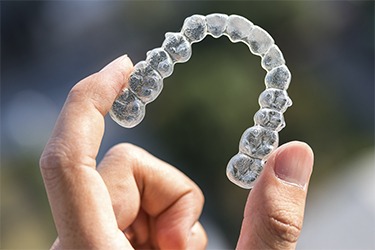 Invisalign® clear aligners offer many benefits over traditional braces. What makes Invisalign® so different?
1. Custom
Dr. Page will take detailed impressions of your mouth. A lab will use these impressions to create aligners that will reposition your teeth over the next 12 to 18 months.
2. Flexible
Can you imagine trying to remove traditional braces on your own? It's a complicated chore even for an orthodontist. Invisalign® trays, on the other hand, are easily removable. While you need to wear the trays most of the time for optimal results, Dr. Page recommends that you remove your aligners while eating, flossing, and brushing. On special occasions, you have the option of leaving your aligners at home.
3. Transparent
Since Invisalign® offers the discreet look of transparent orthodontia, other people won't notice that you're wearing aligners.
4. Low Maintenance
You'll come to our office about every six weeks for updates on your progression. Invisalign® aligners don't require adjustment, so there's very little upkeep.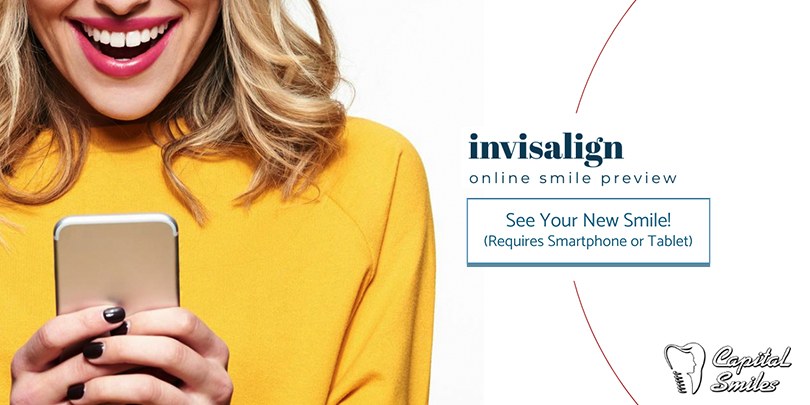 Invisalign vs Other Orthodontic Treatments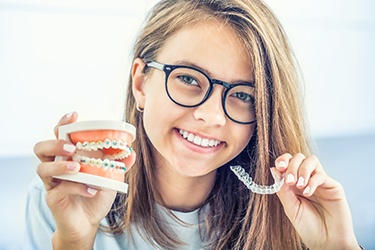 Modern orthodontics offers several different ways to straighten teeth, so what makes Invisalign stand out? Similar to other treatments, it is highly effective and can address most cases of dental misalignment. However, it is much more discreet and convenient than traditional metal braces. Also, unlike other clear aligner systems, Invisalign is fabricated using a patented material that is designed for comfort and precision tooth movements. Invisalign is among the best orthodontic options on the market today.
Learn About Invisalign vs Other Orthodontic Treatments
Invisalign® for Teens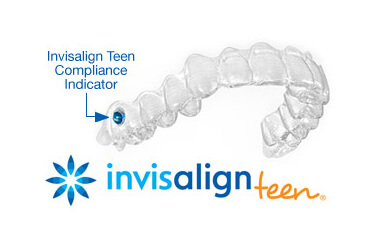 We have some awesome news for our teen orthodontic patients. Invisalign® teen is now available and making teeth straightening a lot less awkward. Invisalign® teen works just like Invisalign® for adults, using a clear aligner system to gently move teeth. This means you can avoid a mouth full of metal for all those important moments, like yearbook photos, homecoming, and prom.
Learn More About Invisalign Teen
Cut Treatment Time in Half with AcceleDent®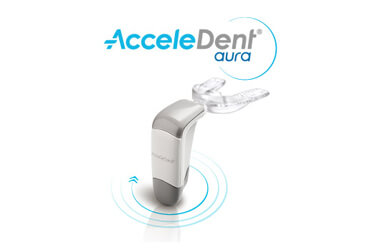 The time it takes to complete your Invisalign treatment can be dramatically decreased with AcceleDent®. The method uses SoftPulse Technology® to speed up bone remodeling, for faster tooth movement, too. Wear the custom-fit mouthpiece activated with the special accelerator for just 20 minutes every day, and the gentle micropulses speed up the movement of your teeth—comfortably. In fact, AcceleDent® is clinically proven to move teeth up to 50 percent faster. You can benefit from accelerated orthodontics!
What Problems Can Invisalign Correct?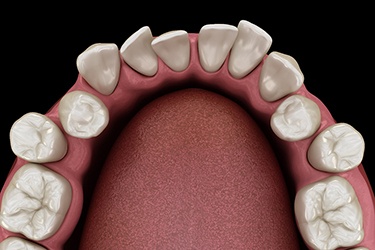 Invisalign is capable of correcting a broad range of dental misalignment issues. It is an appropriate treatment for many cases of crowded teeth, gap teeth, bite problems, and more. It is even able to help some children who have a mix of baby and permanent teeth. Of course, it is also a viable treatment option if your crooked teeth are not a threat to your oral health, but you are just interested in improving your smile's appearance.
Learn What Problems Invisalign Corrects
Planning Invisalign Treatment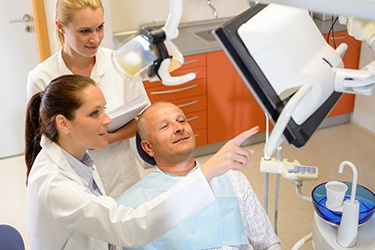 Planning Invisalign treatment requires a combination of state-of-the-art technology and dental expertise. During your in-depth consultation, we'll take a digital impression of your smile, then use advanced software to map out every movement of your teeth. We will also take time to answer any questions you may have about the treatment. Once you commit to Invisalign, your aligners will be fabricated out of patented SmartTrack material, which is designed to provide ultimate comfort and precise tooth movements.
Learn About Planning for Invisalign Treatment
Daily Life with Invisalign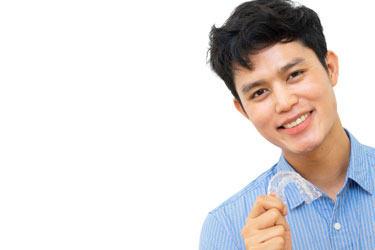 Invisalign is designed to work with your current lifestyle, not interrupt it. You'll have to make just a few adjustments to your daily routine. For example, you will need to remember to remove your aligners when you eat and drink. It is also important that you pay extra attention to oral hygiene. If you ever have questions or concerns about Invisalign, feel free to bring these up during your checkups. Or, if you need urgent help because you accidentally damaged an aligner, we are always ready to help you.
Learn About Living with Invisalign Clear Braces
Understanding the Cost of Invisalign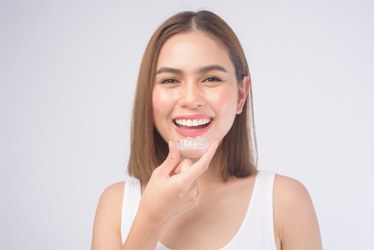 The cost of Invisalign in Schenectady varies from patient to patient. When you visit us for your consultation, we will be able to discuss specific numbers with you. Generally speaking, its price is usually at least a few thousand dollars. Our team will do all we can to help you afford your treatment.
Factors that Affect the Cost of Invisalign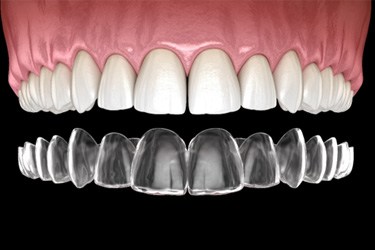 Some factors that have a bearing on the price of Invisalign in Schenectady include:
The extent of your treatment. The severity of your dental misalignment will affect how many aligners you need, whether you require any extra accessories, and how many appointments you must attend. Logically, such factors can influence cost.
Missteps during treatment. If you accidentally lose or seriously damage an aligner, you may have to pay to replace it.
Whether we are treating one arch or both. Often, straightening both the upper and lower teeth costs more than focusing on one or the other.
Invisalign vs. Mail-Order Clear Aligners: Which Is the Better Value?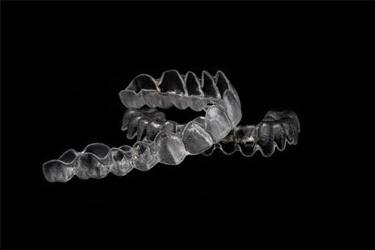 In recent years, mail-order clear aligner systems have seen a boom in popularity. They may seem appealing because they usually cost around $2,000 for start-to-finish treatment, whereas Invisalign may run anywhere between $3,000 and $8,000. Before you decide which type of clear aligners you want, however, you should consider more than just price.
With Invisalign, you get the personal support of a highly trained Invisalign dentist in Schenectady. They are deeply interested in your treatment's success, they use state-of-the-art technology, and you can count on them to respond quickly if you ever run into any questions or concerns with your treatment. Plus, Invisalign aligners are made out of a special, patented form of plastic.
With mail-order clear aligners, it can be difficult to get reliable support. Plus, you might find that the aligners are made out of sub-premium materials. Many patients have experienced unsatisfactory results with mail-order options.
Does Dental Insurance Cover Invisalign?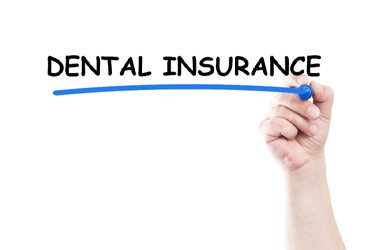 Some premium dental insurance plans have a provision for orthodontic treatment. In many cases, Invisalign is eligible for coverage. If your policy is applicable, it may reduce your out-of-pocket costs by hundreds of dollars — perhaps a thousand dollars or more. Our team will help you file your claims and maximize your benefits.
If your insurance does not cover Invisalign, you may be able to use your flexible spending account or healthcare savings account instead.
Options for Making Invisalign Affordable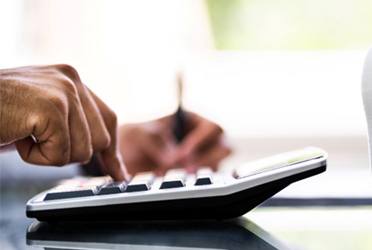 In addition to helping you navigate your insurance benefits, we can also assist you in applying for third-party financing. CareCredit is a company that specializes in helping patients pay for medical and dental treatments over time, often with little to no interest. You may even be able to choose from between several monthly payment amounts, according to what works best with your budget.
Are you ready to learn more about Invisalign and its price? Our team is eager to answer all of your questions. Get in touch today to schedule your consultation. We can't wait to help you achieve your dream smile!
Invisalign FAQs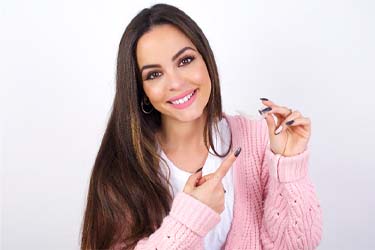 Our team is ready to help you take advantage of all the benefits of Invisalign! Before you come in for your consultation, however, you might want to learn more about the treatment and what you can expect from it. That is why we have compiled the following brief list of FAQs, along with their answers. If you don't see the information you were hoping for, please call us directly. We'll be happy to speak with you.
How Much Does Invisalign Cost?
The cost of Invisalign depends on several factors, including the extent of your treatment, whether you purchase an AcceleDent® machine, and whether your insurance policy has a provision for orthodontic treatment. We'll be able to provide you with a cost estimate during your consultation. Most patients pay at least a few thousand dollars for start to finish Invisalign treatment.
Am I Too Old for Invisalign?
Although Invisalign is primarily marketed to younger people and professionals, it is actually suitable for adults of virtually any age. In fact, many seniors are excellent candidates for the treatment because they tend to be quite responsible, and they are committed to doing everything necessary for a successful outcome. Of course, your eligibility for Invisalign ultimately depends on the degree of your dental misalignment, the state of your oral health, and other factors.
Will I Have to Wear a Retainer?
Yes. Teeth have a sort of "memory" that can cause them to revert back to their original positions if you do not wear a retainer after you finish with your Invisalign course. There are a few different types of retainers, including ones that look very similar to Invisalign's aligners. At first, you should wear your retainer for 20 – 22 hours each day. Later, you may be able to wear it only at night. Eventually, you might just need it for a few nights each week. If it ever begins to feel uncomfortably tight on your teeth, that is a sign you are not wearing it enough.
Can I Get Invisalign if I Have Crowns, Bridges, or Veneers?
Restorations like crowns, bridges, and veneers are not an absolute contraindication for Invisalign. In fact, Invisalign is usually much easier on restorations than traditional metal braces. However, crowns, bridges, and veneers can make Invisalign a little more complicated. We'll let you know how your restorations might affect your experience with Invisalign when you attend your consultation.
What Should I Do if I Lose or Damage an Aligner?
Call our office, and we'll give you guidance on what you should do. Do not try to force a damaged aligner onto your teeth because doing so might harm your oral tissues. We might advise you to go back to wearing a previous aligner while we order a replacement for the one that was lost or damaged. If you were only a few days away from being able to switch to a new aligner, you might be able to do so a little early and avoid the need to pay for a replacement.
Request an Invisalign® Consultation Today
Our Capital Smiles team wants to give you a beautiful smile you are proud to show off. Thanks to Invisalign®, we can straighten teeth quicker and more comfortably than ever before! Contact our Schenectady dental practice today and schedule your exam, consultation, or second opinion visit. Niskayuna, Albany, Troy, Saratoga and Capital District area patients will find our office conveniently located.
Invisalign® Clear Braces - Schenectady, NY • Capital District
Achieve a Straighter, More Confident Smile