Platelet-Rich Plasma and Platelet-Rich Fibrin - Schenectady, NY • Capital District
Enhancing Dental Implant Procedures
When performing surgical extractions, bone grafting, or while placing dental implants, Dr. Page may recommend using your own platelet-rich plasma and platelet-rich fibrin to speed up healing and promote the reformation of the bone tissue. This is an advanced approach which reduces healing times so you can enjoy a complete, functioning smile sooner. Keep reading to learn how it works -- and whether or not it may be right for you.
"I drive 3 hours from New Jersey because the team at Capital Smiles truly knows what they are doing. It is rare to find a dentist who you feel really cares about your needs. This is the A-Team of the dental industry!"

Alex M.

Read More Reviews
What Are Platelet-Rich Plasma and Platelet-Rich Fibrin?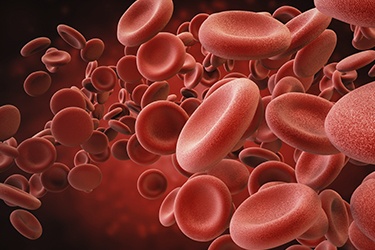 The body really is its own best healer, and platelet-rich plasma and fibrin (PRP and PRF) are excellent proof. Growth factor-rich platelets are special parts of the blood that are like an extra-strength vitamin, promoting the speedy regrowth of tissue. Their use is extremely successful in periodontal procedures and oral surgeries like dental implant placement.
While PRP and PRF have been used for decades in surgical procedures, advances in dental technologies and our commitment to maintaining a state-of-the-art office allow us to offer this service in-house at Capital Smiles. That increases convenience for the patient and can also reduce the overall cost of dental implants.
How Does It Work?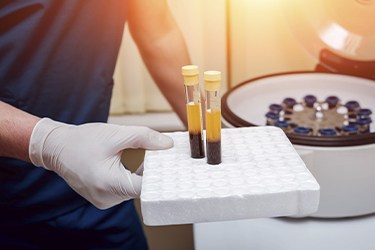 If Dr. Page recommends PRP and PRF for your surgical extraction, bone grafting, or dental implant procedure, your blood will be drawn and centrifuged (or spun around quickly) in a special in-house machine to isolate the PRP and PRF. The plasma and fibrins are then placed directly into the jaw around the surgical area or dental implant site, where they begin to encourage healing and speed up the recovery process.
Many Benefits of PRP and PRF
Patients undergoing dental implant placement have a lot to look forward to if they are undergoing PRP and PRF at the time of the implant surgery. Some of the most significant advantages of this advanced treatment include the following:
Dental implant procedures are traditionally long due to extensive healing periods; PRP and PRF speed up recovery to help you receive the permanent tooth replacement sooner than ever before possible.
PRP and PRF come from your own blood cells for maximum safety and effectiveness.
Patients who are at a higher risk for dental implant failure experience greater success when PRP and PRF are utilized.
The treatment is completed quickly by our team of experts and with minimal discomfort.
You can have this procedure performed from the comfort of our office at the same appointment as your extraction, bone grafting, or dental implant procedure -- eliminating referrals and increasing convenience for you.
Learn More about PRP and PRF Today!
If you are planning for dental implant placement or any other periodontal procedure or oral surgery, you may be able to benefit from accelerated healing through the use of PRP and PRF. If so, that is great news! Dr. Page performs these procedures from the comfort of the Capital Smiles office -- for the utmost in comfort and efficiency. To learn more about how it works and whether or not it is right for you, we invite you to contact us today.