Smile Makeovers - Schenectady, NY • Capital District
Revitalize Your Look with a Smile Makeover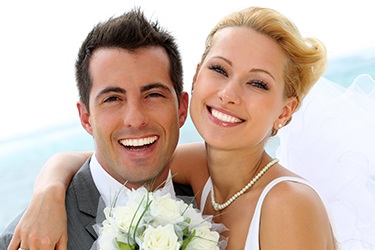 Many patients have a multitude of dental problems that can't be addressed using just one procedure. Longstanding decay, damage, or missing teeth can severely limit the function of the mouth as well as completely drain a person's self-confidence. At Capital Smiles, Dr. Lieberman, Dr. Page, and our entire team deeply empathize with these patients because they often feel very overwhelmed and believe it might simply be too late for their smile. Fortunately, your cosmetic dentist in Schenectady can make even the most forgone smile beautiful again using a transformative smile makeover, combining the best that restorative and cosmetic dentistry has to offer. If you're ready to start reclaiming your smile, please contact us today for an appointment.
"I am thrilled with my new smile! I was always self-conscious of my stained teeth and crooked bottom teeth. I now have a lot to smile about! 8 porcelain veneers later, my top teeth will never discolor. I would recommend Dr. Lieberman's work to anyone. I feel much younger with white, healthy teeth."

Andrea J.
What is a Smile Makeover?
A smile makeover is a comprehensive treatment that typically involves numerous dental procedures intended to fully restore the health, appearance, and function of a person's smile. The combined treatments will help replace any lost dental structure as well as improve the overall aesthetics of the teeth.
Each and every smile makeover is custom designed to meet the unique needs of a patient. This is why the first step is always a thorough consultation. During this appointment, Dr. Page and/or Dr. Lieberman will examine your teeth, jaw, bite alignment, and numerous other factors to gain a global understanding of your dental health. From there, Dr. Page or Dr. Lieberman will discuss what you would like to accomplish with your makeover, your goals, and your desires, and together you and the doctor develop your treatment plan.
Because each makeover is different, the time it may take to complete can vary as well. Sometimes, a smile makeover requires several visits scheduled over the course of a few weeks or months. Alternatively, our office provides a variety of sedation dentistry options, allowing for more dental work to be completed in a single, well-planned, relaxing, and comfortable visit.
Smile Makeover Treatments
Your smile makeover may involve some of the following treatments:
---
Get Your Complete Smile Back
If you have a smile that makes you feel self-conscious and inhibits your ability to speak and eat comfortably, then a smile makeover can help you get back the peace of mind and confidence you deserve. At Capital Smiles, it's never too late for anyone's smile, so whether you have damaged teeth, crooked teeth, or missing teeth, our team will be able to put together and execute a plan that will have you proudly smiling in no time.
If you would like to learn more about how a smile makeover works, or if you're ready to schedule your initial consultation, please contact us today.