Smile Makeover – Schenectady, NY
Revitalize Your Look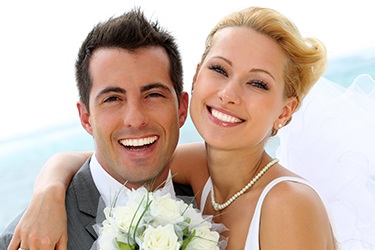 Many patients have a multitude of aesthetic imperfections in their smile that cannot be addressed using just one procedure. At Capital Smiles, Dr. Page and our entire team deeply empathize with these patients because they often feel overwhelmed and believe it might simply be too late for their situation to improve. Fortunately, your cosmetic dentist in Schenectady can make even the most worn and damaged teeth look beautiful again using a transformative smile makeover, combining the best treatments that dentistry has to offer. If you're ready to start reclaiming your smile, please contact us today for an appointment.
Why Choose Capital Smiles for a Smile Makeover?
Highly Skilled Cosmetic Dentist
Wide Variety of Treatments Available
Beautiful & Natural-Looking Results
How Does a Smile Makeover Work?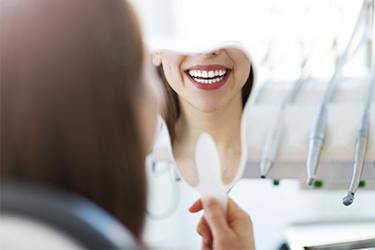 A smile makeover is a comprehensive treatment plan that typically involves numerous dental procedures intended to fully restore the health, appearance, and function of a person's smile. The combined treatments will help replace any lost dental structure as well as improve the overall aesthetics of the teeth.
Each and every smile makeover is custom designed to meet a patient's unique needs. This is why the first step is always a thorough consultation. During this appointment, Dr. Page will examine your teeth, jaw, bite alignment, and numerous other factors to gain a global understanding of your dental health. From there, Dr. Page will discuss what you would like to accomplish with your makeover.
Because each makeover is different, the time it may take to complete can vary. Sometimes, a smile makeover requires several visits scheduled over the course of a few weeks or months.
Your treatment plan may include a number of different procedures, such as:
The Benefits of Getting a Smile Makeover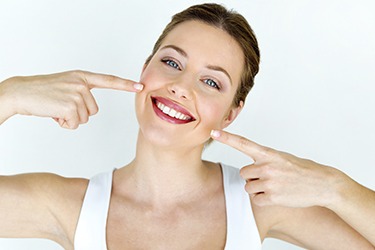 A smile makeover can bring numerous benefits. For example, you may:
Enjoy improved dental function, especially if you get Invisalign or restorative treatments.
Be highly motivated to take good care of your teeth by eating a balanced diet and sticking to excellent oral hygiene habits.
Feel more confident in social situations.
Give the impression that you are youthful, successful, and approachable.
Achieve results that endure for many years (the results of some cosmetic treatments can last for decades).
Enjoy the best possible results within the shortest period of time.
Have a higher overall quality of life.
Understanding the Cost of a Smile Makeover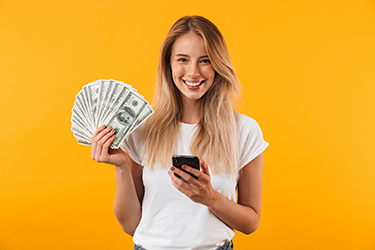 The cost of a smile makeover is highly variable. It depends on which treatments you undergo and the extent of those treatments. During your FREE consultation, we will be able to talk about specific numbers. Be sure to let us know if you have a specific budget in mind so we can adjust your treatment plan accordingly. Many patients end up paying thousands of dollars for their smile makeover. That may seem like a lot, but when you consider all the benefits you may enjoy, this comprehensive service is actually an excellent value. Plus, we may be able to help you afford your care via financing.
Smile Makeover FAQs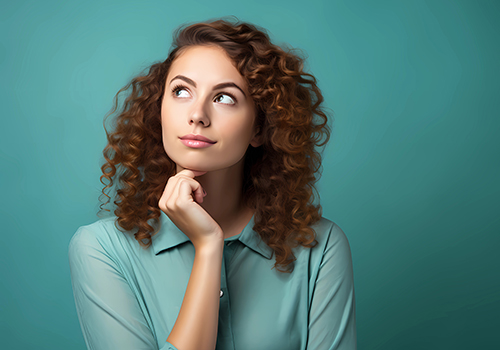 Dr. Page and our team would love to help you achieve your goals for your smile. Before you book your consultation, however, you might want to know more about the road in front of you. To help you in your quest to gather information, we have put together the following list of FAQs, along with succinct answers. If your specific questions are not touched on here, give us a call. We look forward to speaking with you!
How Many Treatments Can You Include in a Smile Makeover?
A smile makeover can include as few or as many treatments as is necessary to help you achieve your desired look. Some patients get their dream smile with a combination of teeth whitening and veneers, while others require a more complex treatment plan that might involve Invisalign, restorative treatments, veneers, and more.
During your consultation, we can discuss how many treatments might be necessary to help your smile reach its full potential.
How Long Does a Smile Makeover Take?
A smile makeover may take anywhere from a couple of weeks to several months or longer. It all depends on which treatments you undergo. For example, teeth whitening can be completed in a single appointment, whereas veneers and metal-free restorations require at least two appointments. Invisalign may take a year or longer.
Whenever possible, we strive to complete multiple treatments simultaneously in order to make the best use of our patients' time.
Is a Smile Makeover Safe?
Smile makeover treatment is quite safe. As long as your procedures are performed by a well-trained and experienced team, the risk of anything going wrong is quite low. No cosmetic treatments carry large risks for oral health, and we carefully screen patients to make sure that they are good candidates for any procedure that they are interested in. If you have any contraindications for a specific treatment, we will adapt your plan so we can achieve the best possible results without endangering your well-being.
Does a Smile Makeover Hurt?
Patient comfort is important to us, so, depending on which procedure you are undergoing, we may use local anesthesia and/or sedation to help you have an enjoyable experience. Some treatments cause temporary sensitivity or soreness after they are complete. For example, veneers and teeth whitening may give you reason to avoid hot, cold, and spicy foods for a while. After your recovery period, though, your teeth should return to feeling normal.
If you ever experience severe pain during or after a dental treatment, let our team know. We will strive to identify the cause of the problem and address it as quickly as possible.