Dental Checkups & Cleanings - Schenectady, NY • Capital District
Enjoy a refreshed, sparkling smile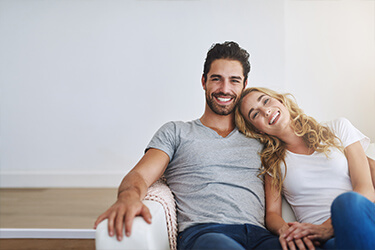 It is almost always simpler to prevent a problem from occurring than it is to correct an existing one. To that end, we recommend that patients of all ages visit the dentist for twice-annual checkups and cleanings. With frequent hygiene, careful monitoring, and thorough examinations, Dr. Erin Page and our highly-trained staff help you steer clear of preventable oral issues for a healthy, long-lasting smile.
When you come in for your routine appointment at Capital Smiles, you won't spend any extra time waiting -- but sitting in our warm, spacious waiting room is almost as comfortable as being in your own living room. Relax with a complimentary refreshment if you like, and before you know it you'll be settling into the dental chair for your appointment.
"How powerful and uplifting... From reception forward, I was treated with care and compassion. I felt like I was finally being heard by the way I was listened and talked to. I was not put down, rushed or embarrassed. My heart felt your sincerity."

Christine T.

Read More Reviews
What Happens During a Checkup and Cleaning?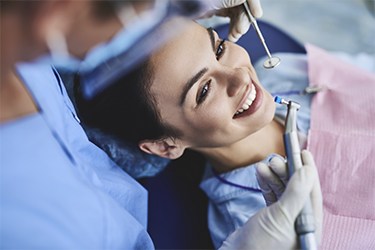 Your routine visit will begin with a thorough cleaning from one of our highly-trained dental hygienists. Good dental hygiene is a fight against plaque and tartar, the two substances that are constantly forming on the teeth. With special tools, we will remove the clear, sticky plaque as well as the yellow tartar that discolors your teeth. We will also take low radiation digital X-rays when necessary so Dr. Page can get an in-depth look at what is going on beneath the visible surface of your mouth.
Comprehensive Exam, Tooth-by-Tooth Appraisal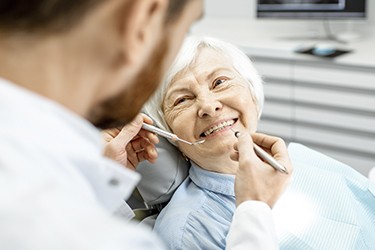 The second half of your preventive appointment at Capital Smiles is when your dentist checks your teeth, gums, and all oral structures for the presence of any current or potential issues requiring restorative care.
Your dentist will perform a tooth-by-tooth appraisal and overall exam, looking for…
Tooth decay
Periodontal (gum) disease
Faulty dental work (fillings, crowns, bridges, etc.)
Possible indications of oral cancer in an oral cancer screening
If any issues are detected during the examination portion of your appointment, your dentist will thoroughly discuss with you the situation and how it relates to your oral health in plain, easy-to-understand language. Then we will put together a treatment plan for restorative dental care to bring your smile back to good, long-lasting health.
Dental Sealants and Fluoride Treatments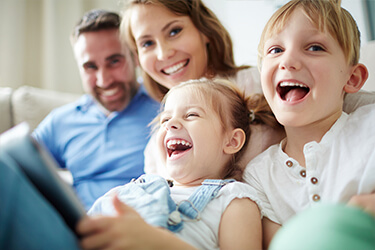 For additional help in the prevention of cavities, we may recommend dental sealants and/or a fluoride treatment at the end of your appointment. Dental sealants are thin coverings that are painted onto the surface of the molars to shield them from the acids and bacteria that cause decay. A quick fluoride treatment strengthens the enamel from the same cavity-causing agents for lasting protection against decay. Both treatments are especially helpful for children's smiles, but patients of all ages can benefit from additional cavity prevention.
Schedule an Appointment Today!
When was the last time you visited Capital Smiles for a checkup and cleaning? Don't let your preventive care fall by the wayside -- your smile is too important. Contact us to schedule an appointment for superior preventive care with your Capital District dentist today!