IV Sedation - Schenectady, NY • Capital District
Deeper Relaxation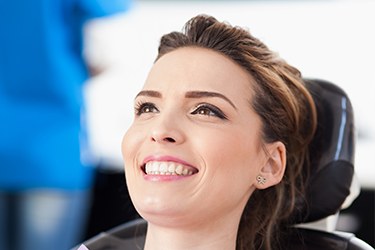 There are a number of options available in sedation dentistry, including IV sedation. For patients who struggle with fear or anxiety related to the dentist's office, or for those who wish to undergo longer treatments in a single appointment, medication can be administered directly into the vein for faster relaxation that is monitored throughout the procedure. Keep reading to learn all about IV sedation.
"What a great staff. Everyone is extremely nice, very attentive, and compassionate about my needs. I was uneasy about going to a dentist, but they take their time with any questions and make you feel very comfortable about being there. The waiting area is more like a living room, adding more to the comfort not usually associated with a dentist's office. Even if you haven't been in a while or you're looking for a nicer place, check them out."

David J.

Read More Reviews
What Is IV Sedation?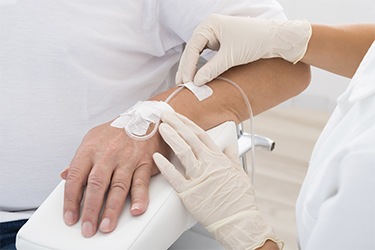 IV (intravenous) sedation is the use of relaxing medication that is administered into the bloodstream. Dr. Page is among a limited number of dentists in our area the Capital District who are certified to perform this method of sedation. It takes effect quickly and can be adjusted as needed for you to stay comfortably relaxed throughout the procedure. Our team will closely monitor vital signs while you are under sedation.
IV sedation offers a greater level of relaxation than can be achieved with nitrous oxide (AKA laughing gas), and it is also easier than oral conscious sedation to adjust during the treatment if needed. You will still be able to answer questions and simple commands while sedated. These features make IV sedation a great option for patients who deal with higher levels of anxiety or those who have not had success with oral conscious sedation in the past.
Benefits of IV sedation include: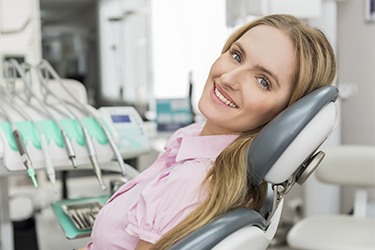 The relaxing effects take over quickly with administration directly into the bloodstream
Can be easily adjusted throughout the procedure
Effects wear off more quickly after the procedure is complete than with oral conscious sedation
Allows Dr. Page to perform more complex procedures in-house
Many patients do not remember the details of their procedure while under IV sedation
What Can I Expect With IV Sedation?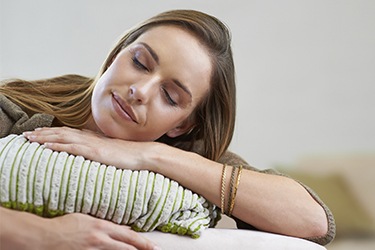 On the day of your appointment, we will walk you through your procedure, answer any questions you have, and then begin by making you comfortable in the examination chair. The medication will be administered through a vein and you will begin to relax almost immediately. We will keep close track of your vital signs while under sedation to ensure you stay safe until the procedure is complete. Once the medication has been removed, we will escort you to our recovery room where you will be given plenty of time to wake up. Plan to have someone escort you home and check on you, as you may remain a little groggy for the rest of the day.
The evening after your appointment, your dentist will give you a call to check on you and make sure you're feeling OK. IV sedation has already helped so many of our patients receive the relaxing dental care they need -- will you be the next to benefit?
IV Sedation FAQs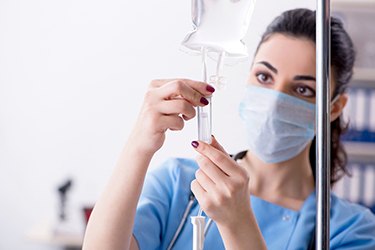 Are you interested in IV sedation? This relaxation method can help you breeze through your next appointment, even if you are planning to undergo some extensive procedures. Before you talk to us about IV sedation, however, it is understandable if you would like to know more about it. That is why we have compiled the following list of frequently asked questions, along with their answers. If you don't see the information you were hoping for, give us a call so we can personally assist you.
Who Is a Candidate for IV Sedation?
Most patients with severe dental anxiety or who are planning extensive treatment are candidates for IV sedation. However, we will still have to learn about you and your medical history before we can approve you for it. It's important that you be upfront with us about what medications you are currently taking, whether you have had any recent surgeries, and any allergies that might run in your family. It is also vital that you tell us if you are pregnant. Armed with that and similar information, we will be able to make a reasonably firm determination of whether IV sedation will be safe and effective for you.
How Much Does IV Sedation Cost?
The cost of IV sedation can vary. It depends on how much of the sedation medication we use for you, among other factors. For example, if we use an IV to provide light to moderate sedation for a short procedure, your cost may be less than if you are more deeply sedated for an oral surgery. We'll be able to provide you with a cost estimate for your entire procedure, including sedation, during your consultation. Although dental insurance does not usually cover IV sedation, you may be able to use financing to break up its cost into reasonable monthly installments.
What Does It Feel Like to Get an IV Placed?
Getting an IV placed is usually a quick and easy process. We will find a vein in your arm or hand and then insert an IV needle. Don't worry — most patients feel just a quick pinch, which is over as quickly as it begins.
What Are Some Possible Side Effects of IV Sedation?
You might notice a bit of bruising and soreness where we insert the IV into your arm or hand. After your appointment, grogginess is to be expected. Some patients also experience nausea, dizziness, and headaches. These side effects are usually mild and tend to wear off pretty quickly. Severe side effects are quite rare, and they include things like fainting, severe skin irritation, trouble breathing, and changes in how the heart is beating. In the unlikely instance that you suffer from any such symptoms, you should seek medical help right away.
Here at Capital Smiles, patient safety is our top priority. If we believe you might be at risk of experiencing significant side effects from IV sedation, we will turn to other means to help you stay relaxed and comfortable during your treatment.
Request a Consultation Today
If you believe you could benefit from being more relaxed at the dentist's office, IV sedation may be a wonderful option for your upcoming appointment. We invite you to get in touch with Capital Smiles to learn more about sedation dentistry! Please contact us for more information today.