Dental Crowns - Schenectady, NY • Capital District
Custom-Made Restorations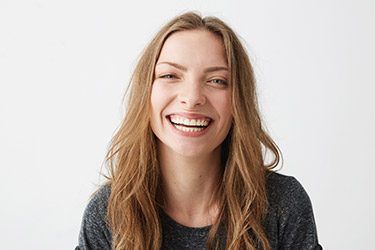 Natural wear and tear, decay, and even an accident can all leave a tooth looking and feeling far from its best, but for Capital District residents who are dealing with problem teeth, Capital Smiles has the solution you need: dental crowns in Schenectady. Dr. Page has an extensive amount of training in the field of restorative dentistry, meaning she is able to design and place customized crowns to ensure the health, beauty, and longevity of our patients' smiles.
"Dr. Page is amazing. This is my second big procedure with her, and I can't say enough about her drive to give you the best results possible while being friendly and personable. Would recommend her dentistry to anyone and everyone!"

Anonymous

Read More Reviews
What is a Dental Crown?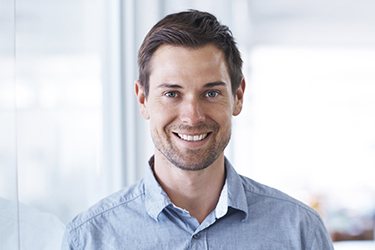 A dental crown is a tooth-shaped restoration that is fitted over the top of a damaged tooth in order to protect and repair it. With a dental crown, Dr. Page can:
Repair a large cavity
Fix a broken tooth
Hold a weakened tooth together
Cosmetically enhance a misshapen or undersized tooth
Even out the bite to help with jaw alignment issues
Complete a dental implant to replace a missing tooth
Depending on the location of the tooth that needs to be restored, crowns can be made of a variety of materials. Typically, strong and durable metal is used for the back teeth, while natural-looking (and still strong!) porcelain is used for the front teeth. There is also an option that blends both called PFM, or porcelain-fused-to-metal. Increasingly, zirconia is the material of choice for both front and back teeth due to its beautiful aesthetic and high strength properties.
What is the Crown Procedure Like?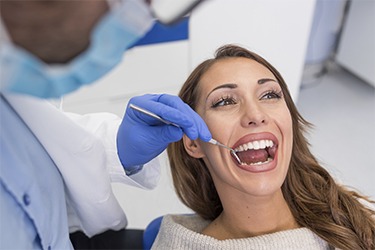 As with any dental treatment at Capital Smiles, it will start with an oral exam performed by either Dr. Page . If she recommends that you have a tooth restored with a crown, the procedure will involve the following basic steps:
At an initial appointment, Dr. Page will gently remove any damaged/decayed portion of the tooth and shape it to fit the crown.
She'll then take an impression or digital scan of this tooth, which will be sent to a dental lab to fabricate your crown.
Before you leave, she will place a temporary crown on your tooth.
When your crown is finished and you return to our office (usually about a week or so later), Dr. Page will remove the temporary and cement the permanent crown in place.
After making a few final adjustments and checking your bite, your new smile will be ready for the world!
Life with a Dental Crown
Right after getting a dental crown, your tooth may experience some sensitivity, but this should lessen over time. With the proper maintenance, your crown should be able to look great and function normally for years to come.
What is the proper maintenance? Simple: brush twice a day, floss,where a night guard if you clench or grind, and come see us for routine checkups here at Capital Smiles. Even though a crown can't develop a cavity, the remaining natural tooth and nearby gums can still experience problems if not regularly cared for.
If at any time your crown feels uncomfortable or causes you any kind of persistent pain, just give us a call, and we'll be happy to adjust it for you.
Come See Us!
Having to deal with a severely damaged tooth is no fun, but the team at Capital Smiles can easily take care of it in just two appointments using a dental crown. If getting a crown makes you feel a bit anxious, don't worry-- we can help take the stress away with our variety of sedation options.
To learn more about dental crowns or start getting one today, contact us for an appointment.