Dental Implants — SCHENECTADY, NY • CAPITAL DISTRICT
Replace Your Missing Teeth for Life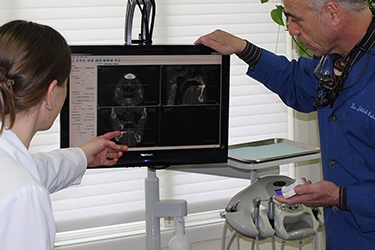 If your smile is marred by missing teeth, you're probably not enjoying life to the fullest. At Capital Smiles, a restorative dentistry practice in Schenectady, we can revitalize your appearance and restore oral function with durable, attractive dental implants.
Dental implants are custom-made, life-like prosthetic teeth that will blend seamlessly into your existing smile. Implant posts are placed in a patient's jaw and topped with custom fabricated that look and feel like natural teeth. Because implants mimic the composition of natural teeth from roots to crown, they offer a replacement solution based on nature's design. No matter what kind of implants you receive, only you and Dr. Erin Page will know they aren't real!
Best of all, our practice utilizes 3D cone beam imaging to more accurately measure bone density when choosing the best location to place an implant. The precision and accuracy afforded from this technology not only makes for a better end result in function and aesthetics–it also gives patients the best quality available that truly stands the test of time. Read on to learn more about how we can replace your missing teeth for life with dental implants in Schenectady and give us a call to schedule your consultation!
"I feel like a whole new person since I got my implants...coming to this office was the best decision I ever made."

Virginia M.

Read More Reviews
Why Choose Capitol Smiles For Dental Implants?
#1 Entire Dental Implant Treatment Completed In-House
#2 Advanced Dental Implant Technology for Precise Results
#3 Denture Stabilization Available
What Are Dental Implants?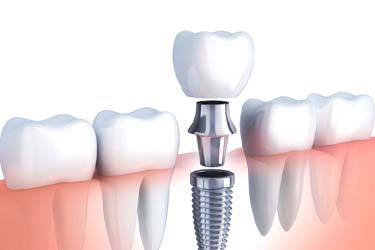 A dental implant is a prosthetic tooth root that is placed into the jawbone in the space left by a missing tooth. Once there, it will actually bond with the surrounding bone through a natural process called osseointegration. At this point, it can be attached to a variety of dental restorations to help replace any number of missing teeth. Because implants are the only treatment that restores a tooth both above and below the gum line, it's able to create extremely lifelike results.
The 4 Step Dental Implant Process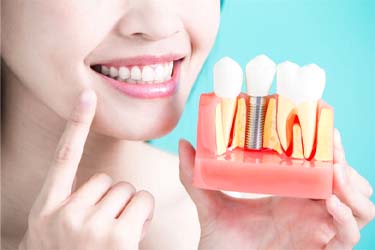 The dental implant process requires multiple treatment stages and takes place across several months. Although it is more complex than the procedure for traditional forms of tooth replacement, the long-term benefits of implants make them well worth the investment of time. At Capital Smiles, we are proud to be able to provide every part of the implant treatment in-house. Although exactly how dental implants work in Schenectady can vary from patient to patient, most people must go through four stages of treatment: consultation, implant surgery, osseointegration and abutment placement, and restoration.
Initial Dental Implant Consultation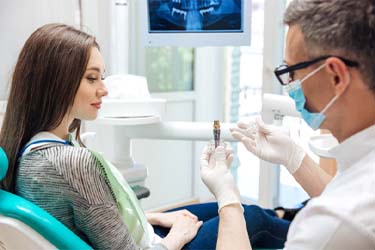 During your initial visit, your implant dentist in Schenectady will spend some time learning about your oral health, your medical history, and your expectations for treatment. We may use our advanced CBCT scanner to gain an in-depth understanding of your oral health.
Once our team understands your circumstances and goals, we will plan the rest of your treatment. You may need some preliminary procedures — possibly including a bone graft, extractions, or gum disease therapy — before you get dental implants. Or, you may be able to move on to your implant placement surgery right away.
Dental Implant Surgery
Dr. Page is qualified to perform this complex surgery right in our practice, so you won't have to worry about familiarizing yourself with an outside specialist for this crucial part of your dental implant journey. During the procedure, we will numb your mouth and possibly sedate you. Once you are comfortable, your jawbone will be exposed, and the implants will be inserted. After the incisions are closed, you can go home to begin your healing process. Most patients are able to return to work within a day or two of their surgery.
Dental Implant Osseointegration & Abutment Placement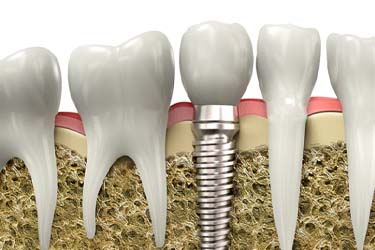 Osseointegration is the biological process through which dental implants bond with the surrounding tissue. It is vital for the success of the treatment because it is what enables the implants to serve as sturdy prosthetic tooth roots. Osseointegration typically takes several months. Afterward, your implants will be exposed, and healing caps will be placed on them. Once your gums have recovered, you will receive abutments. Abutments are small connector pieces that will attach your new teeth to your implants. (In some cases, abutments are placed at the same time as the initial implant surgery.)
Delivery of Dental Implant Restorations
To design your restorations, we will take impressions of your mouth. A laboratory will use those impressions, along with detailed notes from your dentist, to create your new crown, bridge, or denture. Once your restoration arrives in our office, we will verify that its fit, size, shape, and color are all what we expected. Then, we will attach it to your implants. You'll be able to go off and begin to enjoy all the many benefits of dental implants in Schenectady.
Benefits of Dental Implants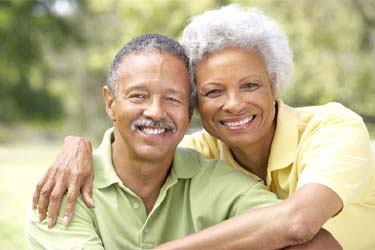 If you live in the Capital District and are dealing with missing teeth, the good news is that you have plenty of options. At Capital Smiles, we offer a variety of restorative solutions that can effectively bring back any number of missing teeth for a lifetime, but chief among them is dental implants. More and more people are choosing to get dental implants in Schenectady, and it's because they offer a number of unique benefits that no other treatment can provide. Read on to learn a few of the most popular reasons why our patients love their dental implants.
Day-to-Day/ Lifestyle Benefits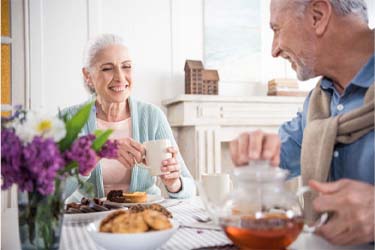 No More Slipping: Removable dentures are notorious for slipping and sliding around in the mouth, but dental implants can enable a patient to finally have a set of teeth they can trust. With a sturdy implant denture, a patient will enjoy a secure hold, a comfortable fit that lasts for years, and a much stronger bite that allows them to enjoy a wider variety of foods.
A Truly Lifelike Solution: Dental implants are the only treatment that restores a tooth both above and below the gum line, giving them unmatched aesthetics, comfort, and function. They look just like natural teeth because they are built just like natural teeth , helping them fit seamlessly into any smile.
Seamless Beauty: Thanks to our custom-made restorations, your new teeth will be virtually indistinguishable from the rest of your smile.
Health Benefits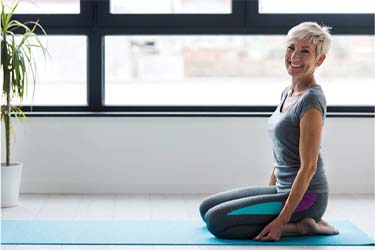 Maintains Facial Shape: Once a tooth is lost, the jawbone in the area naturally starts to shrink and change shape, which can affect the overall appearance of a patient's face and lead to a sunken, aged facial appearance. Dental implant posts stimulate the growth of new bone in the jaw once they are placed, meaning they not only fill in the gaps in the smile, but they also help the jaw, and therefore the entire face, maintain a more healthy and youthful appearance over time.
No Collateral Damage: Traditional bridges are anchored to surrounding teeth. Even though those teeth may be healthy, they are reduced and permanently crowned to anchor the bridge. Similarly, dentures rest on top of the gums for support, which can cause gum irritation. Dental implants avoid these issues entirely and keep your mouth healthy.
Prevent Further Tooth Loss: Unlike traditional dentures , bridges , or partials , dental implants are the only tooth replacement solution to strengthen the area of the jawbone where teeth are missing. This ensures that the foundation for your remaining healthy teeth stays strong as well, helping to prevent any more tooth loss.
Long-Term Benefits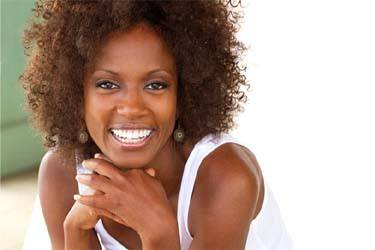 A Secure, Lasting Solution: Other tooth replacements such as bridges and dentures typically need to be replaced every 10 years or so, but with the proper maintenance, dental implants can easily be expected to last a lifetime.
An Impressive Success Rate: Dental implants boast an impressive success rate of 95%, even 10 years after their placement.
Save Money In The Long Run: Even though dental implants cost more than traditional bridges and dentures upfront, they wont need to be replaced or repaired nearly as often. This means you could easily save thousands of dollars over time.
Who Dental Implants Can Help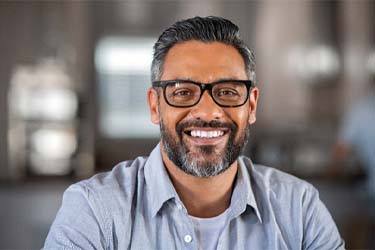 Dental implants in Schenectady are able to help most people with missing teeth. This is true whether you have lost one tooth, a few teeth, or even all your teeth. When you come in for your consultation, we will conduct a thorough examination to determine the steps necessary to help you rebuild a complete, strong, and healthy smile. Even if you aren't a candidate for dental implants right away, you may become one after some preliminary treatments.
Who Is a Good Candidate for Dental Implants?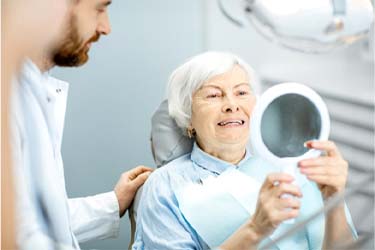 An ideal dental implant candidate:
Has fair overall health. You should be free of any medical conditions that might compromise your ability to heal well after oral surgery. For example, if you have diabetes, it should be well-managed.
Has good oral health. It is important that you are free of gum disease and other oral health conditions that might adversely affect your dental implants.
Has adequate jawbone density and volume. Your jawbone must be strong enough to support your dental implants.
If you don't initially meet the criteria for dental implant candidacy, there is no need to worry. In most cases, patients qualify for implants after some preliminary treatments, such as a bone graft or gum disease treatment.
While there are many different kinds of implants available today, at Capital Smiles, we only use implants made from the highest quality materials and the latest advances in design to provide our patients with the very best when it comes to function, durability, and esthetics. We'll design your dental implant treatment plan around how many teeth you're missing.
Missing 1 Tooth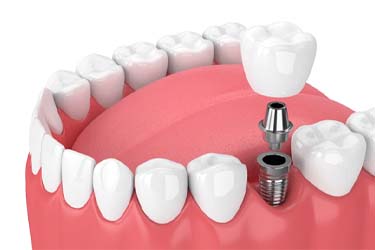 If you are missing a single tooth, we will surgically place one dental implant into your jawbone. Later, after your mouth has time to heal and the implant has fused with the surrounding tissue, you will receive a crown to replace the visible portion of your lost tooth. This form of single-tooth replacement is superior to a traditional bridge because it rebuilds the tooth from the root up, making it look and feel as natural as possible. It also does not usually require that the nearby teeth be modified, so you can retain as much healthy dentition as possible.
Missing Multiple Teeth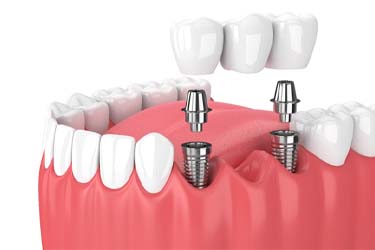 If your missing teeth are all adjacent to one another, you may need an implant-supported bridge. For two missing teeth, a single implant topped with a crown and pontic (artificial tooth) may be the best treatment. For three to five missing teeth, you may need two implants placed at each end of the empty space, and we will top them with the appropriate number of crowns and pontics. If your missing teeth are not consecutive, you may need multiple single-implant crowns or a partial denture. During your consultation, your dental implant dentist in Schenectady will determine the best type of prosthetic for your unique situation.
Missing All Teeth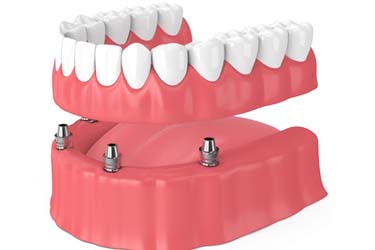 Implant dentures are the best solution for patients who are missing all their teeth throughout one of their dental arches. There are different types of implant dentures, including ones that require just a few implants, as well as ones that require six or more. Some implant dentures are easily removable, while others are designed to stay in place permanently between dental appointments. Our practice even offers streamlined All-on-4 and All-on-6 dental implant treatments, which allow you to get a set of prosthetic teeth on the same day as your implant placement surgery.
Kept firmly in place by four to six dental implants, the All on 4® or All on 6® implants are a permanent solution made of zirconia, a strong and dense material that resists chips, breaks and stains. For patients who are missing all or most of their teeth, the All on 4® or All on 6® process can be an ideal solution for replacement that is fast and reliable.
Learn More About All-On-4/ All-On-6 Learn More About Implant Dentures
Denture Stabilization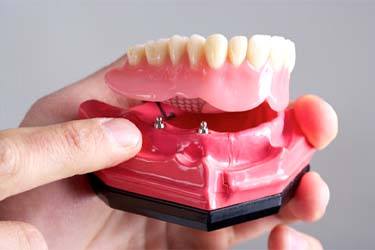 Are you tired of your traditional dentures slipping around in your mouth while you speak and eat? This is an embarrassing and uncomfortable problem that often occurs because normal dentures simply sit on top of the gums. They have nothing to anchor them in place. We may be able to offer an elegant solution with denture stabilization via dental implants. With just a few strategically placed implants, we can secure your prosthetic teeth and give you a stronger, more natural-feeling, and more functional smile.
Learn More About Denture Stabilization
Understanding the Cost of Dental Implants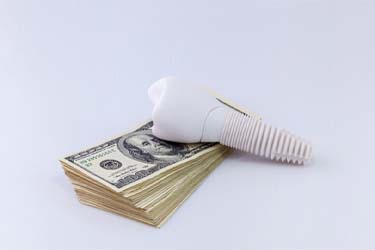 As with any dental procedure, cost is always a big factor that is on people's minds. If you're thinking about getting dental implants, you've probably seen a wide range of prices if you've done any research about them online, ranging from about $500-$6,000 per tooth! The truth of the matter is that there is no set cost for dental implants, and the final price can vary widely depending on a patient's particular situation and needs . Read on below to learn about all of the different factors that can affect the cost of dental implants in Schenectady.
Preliminary Treatments & Dental Implant Surgery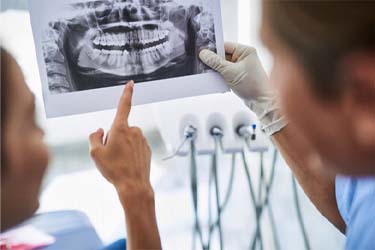 Several X-rays and diagnostic scans will likely be taken prior to your dental implant procedure, and these will be used to formulate your specific treatment plan. With them, Dr. Page can determine the best location for your implants within the jawbone while also avoiding sensitive nerves. These diagnostic procedures may add to the overall cost of your treatment.
A patient may need to undergo bone grafting before implants can be safely placed. This is necessary when a patient's jawbone is too thin or brittle to support dental implants as it is. This is an essential first step for some patients. Other preparatory procedures may include treatments to address an ongoing dental problem (such as gum disease) that could affect implant placement, or teeth may need to be extracted. Naturally, the cost of these procedures will add the price of your dental implants. This will be discussed with you before you begin treatment.
And of course, your comfort throughout the entire process is a top priority as well. During your implant placement procedure, we will use local anesthesia, but if you would like more help to feel comfortable in the chair, we can also provide a number of sedation options . With them, we can help calm a nervous patient's mind as well as protect them from any potential discomfort. We offer nitrous oxide sedation , oral conscious sedation (pill), and IV sedation . We can go over all of your options during a consultation so we can help you select the one that is best for you and your budget.
The Parts of Your Dental Implant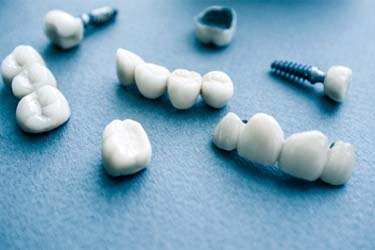 Dental implants can be used to restore a single tooth, multiple teeth, and even an entire mouthful of teeth if needed. Not only will the number of implants and restorations you require affect the overall cost, but where these materials come from matters as well. There are a number of manufacturers that provide various types of implants and their component parts.
When you come in for your initial implant consultation, Dr. Page will go over all of your options so you can determine the right type of implants, restorations, and abutments that fit both your oral health and budgetary needs.
Why Do Dental Implants Cost So Much?
The reason that dental implants cost more than other options is pretty straightforward. The procedure to place them requires a lot of preparation and extreme precision from the doctor, which means they need to have a special kind of expertise. Dr. Page has taken endless hours of continuing education and has years of experience in the field of implant dentistry, giving her the kind of skills you simply won't find at your average general dentist.
Additionally, the materials used in implant dentistry are also very high quality. The posts are often made of titanium, which is not only extremely strong, but also biocompatible, meaning it's able to integrate with the jawbone to form a firm foundation for the restorations. The restorations themselves are often made of 100% dental ceramic or zirconia, which is shaped and shaded by a dental lab to look and function like a real tooth in addition to fitting into a patient's unique bite.
The Value of Dental Implants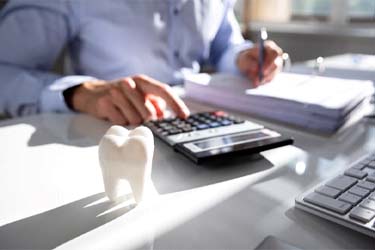 Fortunately, when looking at the big picture, dental implants are actually the most cost-effective tooth replacement option available today because of their:
Longevity: With the proper maintenance (consisting of regular brushing, flossing, and dental visits), dental implants can be expected to last for a lifetime. This is much, much longer than other restorative options that typically need to be completely replaced every 7-10 years. While implants do cost more upfront, they tend to cost less over the long term, because for many patients, they are a one-time expense.
Jawbone Preservation: Dental implants can help prevent and even reverse the bone loss that is so common after tooth loss. This not only helps maintain better oral health and lower the cost of caring for your smile, but it can prevent future tooth loss and the expenses that come with it.
Increased Function and Confidence: Perhaps most importantly, patients agree that you simply can't put a price on the quality of life dental implants can help you potentially regain. From smiling confidently to eating all your favorite foods, dental implants can keep you from paying the price of insecurity and frustration that comes with traditional tooth loss solutions.
No Denture Adhesives: Dental implants can be cared for just as easily as natural teeth. You won't need to buy any adhesives or special cleaning pastes or solutions.
Does My Dental Insurance Cover Dental Implants?
Every dental insurance plan offers a different set of benefits, so this is hard to answer without you or our team going over your specific policy. Some plans do not offer any coverage, while other plans do provide benefits for dental implants. Our team will be happy to go over your insurance plan with you to determine if it could be used to help offset the cost of your procedure.
Making Dental Implants Affordable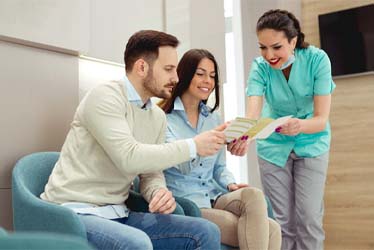 Third-party financing is also available at our office through CareCredit. We work with these companies to offer patients special financing for qualified applicants. Our team is ready to help arrange these or other options for you.
Dental Implant Technology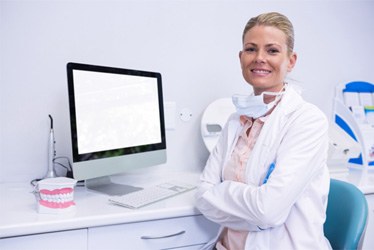 Dr. Page's remarkable skill and extensive training equip her to provide top-quality dental implant treatment. However, technology also plays a big role in allowing patients to enjoy the most efficient, comfortable experience possible. Read on below to gain some insight into a few of the advanced tools that our practice utilizes.
Cone Beam Scanner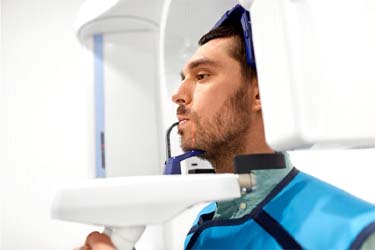 This dental implant technology, known as a cone beam scanner or CBCT machine, creates high-definition, three-dimensional images of all a patient's oral and maxillofacial structures for a fully comprehensive understanding of their needs.
The scanning process allows Dr. Page to be aware of any potential issues that could arise when placing dental implants in certain areas, such as the density of the jawbone and any bodily interference. The critical information we gather then allows our team to create a well-informed plan of action, ensure safe, predictable results, and provide patients with much higher chances of long-term success.
Following the placement of dental implants, the CBCT machine can help us monitor how well the prosthetic tooth roots are integrating with your bone. It can also help us to diagnose problems if you ever experience issues with your implants in the future.
CBCT scans can be completed very quickly, and the amount of radiation a patient is exposed to is reduced considerably when compared to traditional CT scanning.
Guided Dental Implant Surgery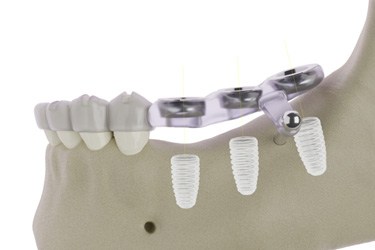 An implant dentist essentially has two options when it comes to performing implant placement surgery: guided or freehand. Freehand placement has been in use for decades, and it is generally successful. Basically, it involves a dentist taking a very well-educated guess as to exactly where, how deep, and at what angle dental implants should be inserted into the jawbone.
Guided surgery, which has an even higher success rate, is the ideal approach when a patient is getting multiple implants or has complex facial anatomy. Before the surgery, CBCT scans are used to create a surgical guide. Dr. Page then utilizes that guide to minimize the risk of human error and set you up for a smoother, speedier recovery.
Although the process of creating a surgical guide can add slightly to your overall treatment timeline, it is a worthwhile step!
Antibacterial Coating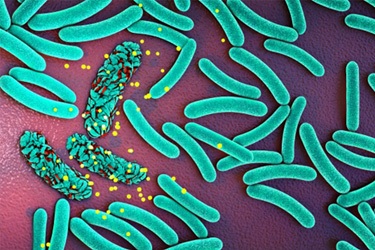 Dental implant failure is relatively rare, but Dr. Page and our team still go the extra mile to prevent it. After all, the last thing we want is for you to lose your beautiful new replacement teeth!
That is why the implants we use at Capital Smiles in Schenectady have a special antibacterial coating. The coating helps to prevent the growth of harmful bacteria around the implant after it is inserted into a patient's body. Therefore, it can play a large role in preventing infections, protecting your oral tissues, and minimizing the risk of dental implant failure.
The efficacy of the antibacterial coating may last for a few months, meaning that you will remain protected during the most critical part of the healing process following your implant surgery.
Advanced Dental Implant Procedures
If you're not initially a good candidate for dental implants, don't fret! We may be able to help you get on track for your new smile with one of our advanced dental implant procedures. These specially-designed treatments can help you gain jawbone density, heal faster, and more. Read on to learn more about a few of these procedures and how they may be able to help you.
Bone Grafting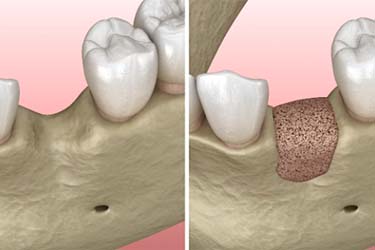 Before a patient can safely get dental implants, Dr. Page needs to determine if they have adequate jawbone density to support the prosthetic roots. If they do not, which is common for patients who have been dealing with tooth loss for a long time, then this can be corrected with a bone grafting procedure to build up and strengthen the bone. To determine whether or not you need one, we will take a variety of X-rays and diagnostic scans during your initial consultation. If it turns out that you do, we can perform the procedure here at Capital Smiles.
Platelet-Rich Plasma (PRP) & Platelet-Rich Fibrin (PRF)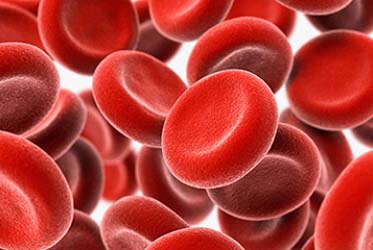 To speed up healing and promote bone reformation around dental implants, Dr. Page may recommend using your own platelet-rich plasma and platelet-rich fibrin. The procedures (PRP and PRF) centrifuge your blood to isolate growth factor rich platelets, which are then placed around the sites of your dental treatment to promote healing following periodontal or surgical procedures. Dr. Page provides PRP and PRF from the comfort of our Schenectady office for maximum comfort and efficiency.
Sinus Lifts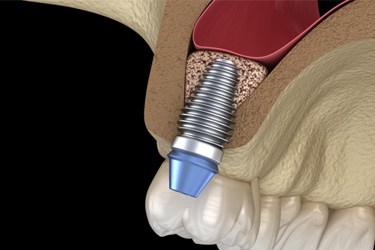 Some patients have an upper jawbone that is not large or deep enough to support dental implants. This can occur due to natural bone resorption after tooth loss, advancing age, physical trauma, or other factors. For such individuals, placing dental implants without a preparatory procedure could be dangerous; the implants might end up puncturing the sinus membrane above the upper jaw.
To address this complication, Dr. Page and our team might recommend that you undergo a sinus lift. This dental implant procedure is a special type of bone graft. During the surgery, we carefully access the sinus membrane through the upper jaw. Then, we gently move it upward. To keep the membrane in its new place, we insert a block of bone material beneath it.
As you heal, your body should integrate the new bone material. This process may take 4 – 9 months or so. Thereafter, you should be ready to safely receive dental implants.
Ridge Expansion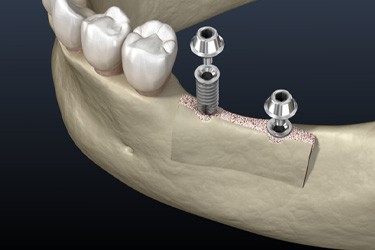 We often say that dental implants get placed in the jawbone. That is true, but it is actually a generalized statement. More specifically, implants are inserted into a portion of the bone called the alveolar ridge. If that ridge is too narrow to support your new prosthetic tooth roots, you may need to undergo a procedure known as ridge expansion (also called ridge augmentation).
Ridge expansion is another type of bone graft. During the surgery, Dr. Page uses special tools to wedge apart the inner and outer portions of the alveolar ridge. Then, she places a bone graft between them, thereby creating enough space for your implants.
Depending on your unique circumstances, it is possible that you could receive dental implants during the same appointment as your ridge augmentation. In other cases, it might be recommended that you go through a healing period before you move forward with the remainder of your tooth replacement journey.
Dental Implant Post-Op Instructions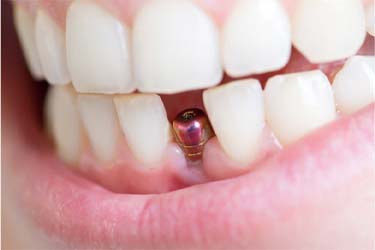 For minor cases, we typically recommend that a patient take the day of their procedure off to relax, and for more complicated ones, they may require about two to three days at home to get through the initial stage of their recovery. We will let you know how much time you should take off before we perform the procedure. If you carefully follow our dental implant post-op instructions in Schenectady, you are likely to enjoy a smooth and complication-free healing process.
What to Do Directly After Dental Implant Surgery
Blood clots should form at your incision sites. Because these are a key part of your body's healing process, you should take steps to protect them. Such steps include:
Do not spit. Instead, swallow excess saliva or use tissues to absorb it.
Do not smoke or use drinking straws. The suction action might dislodge the blood clots.
Do not touch the surgical sites. It can be tempting to feel the surgical sites with your tongue or fingers, but you should resist any urge to do so.
Common Side Effects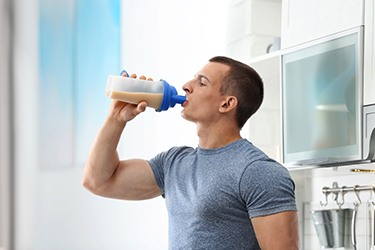 During the first few days after your surgery, you might experience:
Intermittent bleeding. Gauze and light pressure can keep this under control.
Cold compresses can do much to minimize this issue.
General discomfort. Be sure to get plenty of rest and take pain medication if necessary.
If you experience any severe or unusual side effects after your surgery, contact your implant dentist in Schenectady right away to request an appointment.
Diet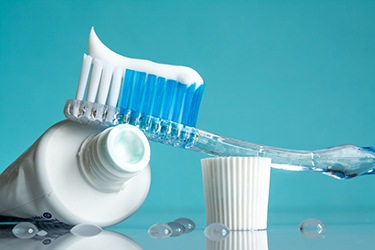 Immediately after your surgery, you should stick to a no-chew diet, which can include things like yogurt, smoothies, meal replacement shakes, and brothy soups. Later, you can transition to eating fork-tender foods, like meatloaf, scrambled eggs, soft bread, and anything else that is easy to cut with the side of a fork. You can return to a normal diet once you feel up to it, but you should continue to limit hard and crunchy foods.
Health & Oral Hygiene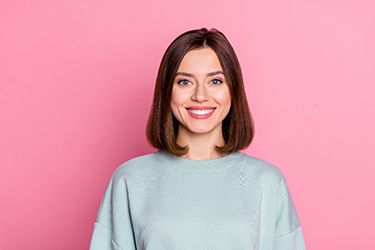 The day after your procedure, you can brush your teeth, but be extra careful around your surgical sites. Rinsing your mouth with warm salt water 2 – 3 times each day can help to ease inflammation and reduce your risk of infections. If you have a prescription mouthwash, be sure to use it as directed. However, you should avoid nonprescription mouthwashes that contain a lot of alcohol, such as Scope and Listerine.
What to Do After Your New Teeth Are Attached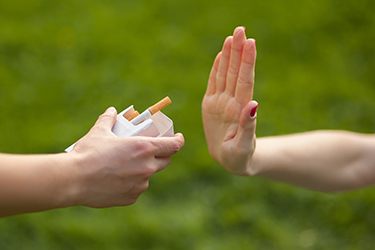 A few months after you receive dental implants in Schenectady, you will get prosthetic teeth to go on top of them. You might experience a temporary increase in gum sensitivity, but there will be no downtime, no bleeding, and no major swelling. You'll be able to use your new smile right away!
Maintaining & Caring for Your Dental Implants
One of the best parts about getting dental implants is that their care and maintenance is not unlike your routine oral care. Dr. Page recommends that you maintain good home care, brush and floss every day, and keep up with your regular dental cleanings and checkups. Your dental implants, for the most part, can be treated just like your real teeth! Of course, there are a few other little tips and tricks that will help your implants last even longer, and you can read about them by clicking below.
Brush & Floss Your Teeth Daily
Even though an implant itself cannot get a cavity, the surrounding gum tissue and even the bone supporting it can develop an infection if the area isn't cleaned regularly, which could compromise its stability. Consistent brushing and flossing is the primary way to keep this from happening, and use of a irrigator aids, such as a water pick, in making your dental implant last as long as possible.
Use the Right Dental Products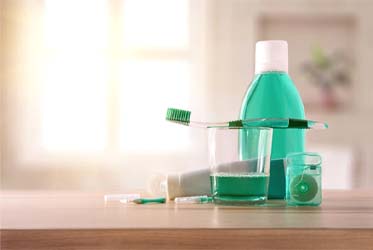 It's important that an implant patient use a soft-bristled toothbrush as well as a low-abrasive toothpaste in order to not damage their restorations. Hard-bristled brushes and coarse toothpastes may seem to be the key to a deeper clean, but in reality, they'll just scratch the porcelain and likely cause gum recession as well.
Consider Using Interdental Tools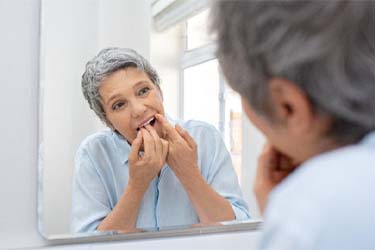 There are various tools other than floss that can be used to effectively clean between the teeth, including interdental brushes and water picks. These can help clean the tiny spaces on either side of an implant, particularly toward the base near the post. These tools are especially useful for those with implant dentures in order to keep the area where the gums and prosthetic teeth meet free of plaque buildup.
Don't Chew Extremely Hard Things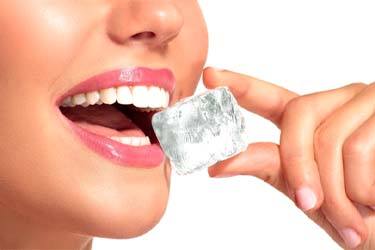 This is just good advice whether you have implants or not! It's best to avoid chewing extremely hard items like ice, pens, pencils, fingernails, and so on. These kinds of items can damage natural teeth and implants alike, leading to an unexpected trip to the dentist.
Use a Nightguard for Bruxism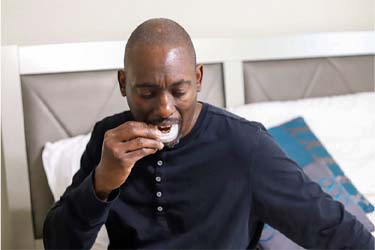 About 1 in 3 people suffer from bruxism, which is a condition where a person clenches their jaw and grinds their teeth while they sleep. This can expose implants to quite a bit of pressure and cause them to eventually break, so if you grind your teeth at night, ask your dentist about getting a nightguard to keep them protected.
Don't Be a Stranger to Your Dentist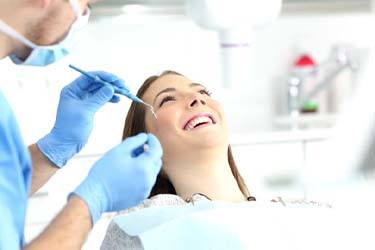 Regular dental visits are just as important after you get implants as they were before. Like always, they give your dentist the chance to catch any potential issues early so they don't turn into big problems down the line. These appointments are also a good opportunity to discuss any issues you're having with your implants.
Dental Implant Failure & Salvage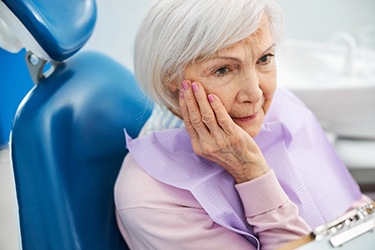 In the vast majority of cases, dental implants are a resounding success. They provide patients with many years of strong, confident smiles and improved oral health. Rarely, though, circumstances arise that lead to dental implant failure. If you ever suspect that something is amiss with one of your dental implants, contact our team right away. We will evaluate the problem and recommend your next steps. We want to address any problems as conservatively and efficiently as possible so you can get back to enjoying sound oral health.
Learn More About Dental Implant Failure & Salvage
Dental Implant FAQs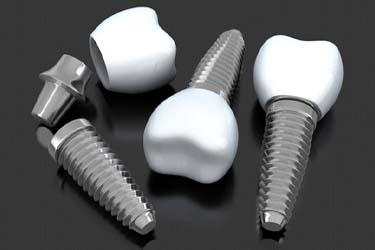 While we've likely answered many of your implant-related questions on this page already, we're sure you have more. By clicking on the button below, you'll find answers to many of the most common implant questions, including, "How soon can I go back to work after implant surgery?" and, "Are dental implants right for me?" If you're curious about how long dental implants last or whether you can get them if you're a smoker, our handy FAQ will give you all the answers you seek!
We understand finding the best Capital District dentist for dental implants is not an easy feat. There are many choices, and it pays to do your research. There are many reasons why we are qualified to help replace as few as one tooth to as much as your entire smile – and we understand you likely have questions. Below, you'll find the most common questions we get that will help you learn more about dental implants. If you have any inquiries not outlined on this page, do not hesitate to contact our office.
How Many Teeth Can Dental Implants Replace?
At Capital Smiles, we can use dental implants to help with any degree of tooth loss, whether a patient is missing a single tooth, multiple teeth, or even an entire mouthful.
How Much Do Dental Implants Cost?
Dental implants actually have no set cost, and the final price of an implant procedure can vary quite a bit from patient to patient depending on a number of factors. These include: what kind of implant restoration a patient needs, if a bone graft is required beforehand, and if any coverage is offered by dental insurance. During your initial consultation, we'll be able to give you an estimated price for your treatment.
Does Dental Implant Surgery Hurt?
Thanks to modern-day dental techniques, the experience of Dr. Page, and local anesthetic, our implant patients report feeling very little discomfort either during or after their placement procedure. For those who need a little more help to overcome dental anxiety, our practice provides a number of helpful sedation options .
Are Dental Implants Safe?
As shown through extensive clinical research and experimentation, dental implants are an extremely safe option when it comes to replacing missing teeth. However, certain risk factors such as smoking or a thin/weak jawbone may increase the chances of implant failure. Fortunately, Dr. Page knows how to mitigate the most common risk factors to make dental implants a viable option for the overwhelming majority of our patients.
How Long Do Dental Implants Last?
With regular brushing, flossing, and dental checkups, dental implants regularly last a lifetime.
Are Dental Implants Right for Me?
This is a question we can easily answer if you come in to see us for an initial consultation. Overall, qualified dental implant patients need sufficient jawbone to support the implant posts and stable overall health. If a patient is lacking in one or both of these areas, this will be addressed before beginning the implant procedure.
How Long Does It Take to Get Dental Implants?
From an initial consultation to when a patient walks out of our office with their final restorations, the entire process can take anywhere from about 4 months to a year or more. Simpler cases that involve fewer teeth and a healthier patient can usually be completed over the course of a few months, while those that require a full denture and a bone graft beforehand can take longer. We also offer a procedure called All-on-4/6, where implants can be placed and restored in just one visit, making it the fastest implant option available. So how long will your specific procedure take? We can let you know at your initial consultation.
Can I Get Dental Implants for My Current Denture?
Yes, we can use dental implants to help improve the fit of a traditional denture, but this will largely depend on the condition of the denture itself as well as a patient's jawbone. If needed, we can also provide a patient with a completely new implant denture so they can enjoy a stable fit that will last for years to come.
Can I Get Dental Implants If I Smoke?
Yes, but being a smoker does make the implant placement procedure a little riskier because it increases the chances of an infection developing. This is why our team recommends that a patient, at minimum, stop smoking right before their placement and for a few days after so they can recover.
I'm Interested in Getting Dental Implants. What Should I Do Next?
If you're considering dental implants, all you need to do is schedule an appointment here at Capital Smiles to get started. At this appointment, Dr. Page will perform a brief oral exam, take some X-rays, and then she will discuss what your particular dental implant procedure would entail. At any point, you'll have the chance to ask any questions you like. We always want our patients to be fully informed so they can make confident treatment decisions. Our practice is close to Saratoga, Clifton Park, Albany, Troy, Niskayuna and the surrounding Capital District.