Invisalign vs Other Orthodontic Treatments – Schenectady, NY • Capital District
Choosing Your Path to a Straighter Smile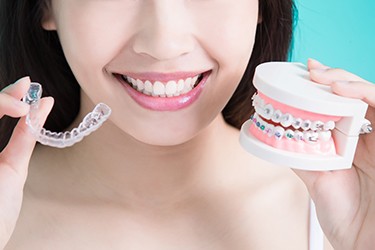 Modern orthodontics offers several different ways to reposition teeth and reveal healthier, more attractive smiles. Traditional braces remain a popular choice, but now they are in competition with Invisalign and other clear aligners. How do all these different treatments compare? On this page, you'll learn how the effectiveness, materials, convenience, comfort, and aesthetics of Invisalign compare with that of other orthodontic options.
"Dr. Page provided me with a caring and quality experience. She was attentive to my needs and it was very apparent throughout my procedure that she was consistently attentive to my comfort and wellbeing. Thanks doc for making the most uncomfortable situation as comfortable as possible with good humor attentiveness and a great staff."

Michael C.

Read More Reviews
Effectiveness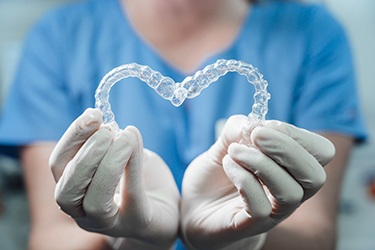 Invisalign: Invisalign is able to correct most types of orthodontic issues, including gapped teeth, crowded teeth, bite problems, rotated teeth, and more. It is generally recommended for mild to moderate misalignment cases, and it is available for teenagers and adults. In some cases, it is even suitable for children.
Other clear aligners: Similar to Invisalign, other clear aligners work well to address mild to moderate misalignment. However, they are usually not recommended for children. Also, keep in mind that other clear aligner systems are reliable only if they are provided by a qualified dental professional. Mail-order aligners are very risky and do not always produce good results.
Traditional braces: Metal braces are very versatile, suitable for patients of any age, and can correct mild to severe cases of dental misalignment.
Materials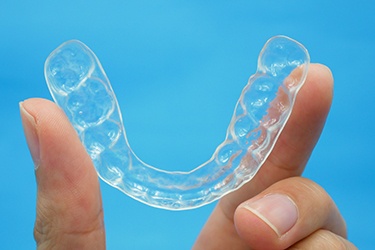 Invisalign: Invisalign uses patented SmartTrack material for its aligners. The material is designed to produce highly accurate tooth movements.
Other clear aligners: Most clear aligners are made out of an unpatented form of plastic.
Traditional braces. Braces usually consist of metal brackets and wires. However, ceramic brackets are also an option for many patients.
Convenience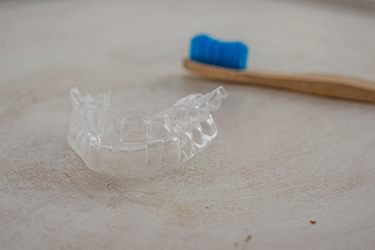 Invisalign and other clear aligners: The aligners are removable, which means you will not have to put up with any dietary restrictions. You will also enjoy an easy oral hygiene routine.
Traditional braces: Traditional braces are bonded to the teeth, and only a trained professional can remove them. It is important that patients avoid foods that might get stuck between the brackets and wires or that might damage the braces.
Comfort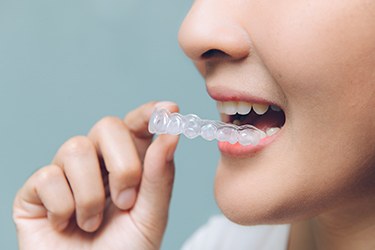 Invisalign: Invisalign aligners are precisely trimmed along the gumline to minimize irritation to the soft tissues in the mouth. They move teeth very gradually, which reduces discomfort during the treatment process.
Other clear aligners: Depending on the brand, the aligners may or may not be designed for comfort.
Traditional braces: Many patients complain that metal braces irritate their gums or cheeks. The braces might also feel bulky. Discomfort is very common after braces get tightened.
Aesthetics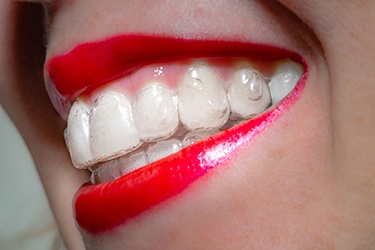 Invisalign and other clear aligners: These types of treatment are very discreet and do not call a lot of attention to themselves.
Traditional braces: Metal braces are usually quite noticeable, and patients commonly remark that they feel self-conscious when wearing them.
Which Is Right for You?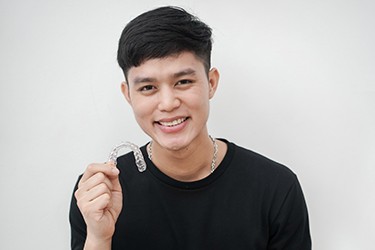 There are many factors to consider when you are trying to decide which orthodontic treatment to pursue. At Capital Smiles, we favor Invisalign because it is aesthetically pleasing, highly effective, and convenient. Would you like to find out if it is right for you? Contact us today to schedule your Invisalign consultation.