Dental Bridges – Schenectady, NY
Fast & Effective Tooth Replacement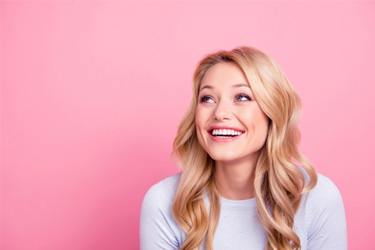 Some patients come to us with just one or two missing teeth, and their remaining teeth are still in good shape. In such cases, we usually do not recommend a denture. Instead, we tend to favor dental bridges. Bridges are an excellent way for patients in Schenectady to regain a complete and confident smile without a long treatment process or extremely high care costs. If you would like to learn more about this fast and effective form of tooth replacement, get in touch with our team today.
Why Choose Capital Smiles For Dental Bridges?
Natural-Looking Restorations
Sedation Available for Patient Comfort
Traditional & Implant Bridges Available
What Is a Dental Bridge?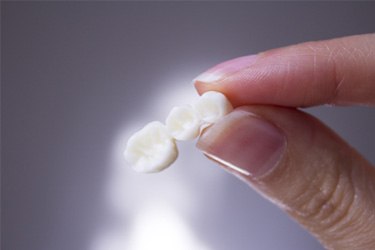 A traditional dental bridge has a crown on each end. Each of the crowns gets placed on one of the teeth next to the empty space, called the abutment teeth. They support 1 – 3 pontics (artificial teeth) between them. Bridges are a common method for addressing minor cases of tooth loss.
Bridges can be made out of various materials. Here at Capital Smiles, we tend to favor zirconia because it bears a strong resemblance to natural tooth enamel and is durable enough to stand up to the rigors of everyday eating and drinking.
Types of Dental Bridges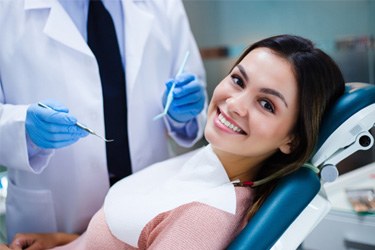 There are a few different types of dental bridges. The best one for you will depend on the extent of your tooth loss, your budget, the state of your oral health, and other factors. During your consultation with our team, we will learn about your circumstances and talk to you about your treatment options. Depending on what we discover, we may recommend that you receive one of the following:
Traditional Bridge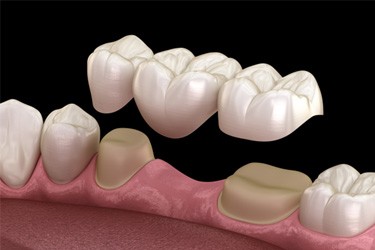 This type of restoration is typically what people have in mind when they talk about dental bridges. Traditional bridges rely on the abutment teeth for support and can usually be placed after just a couple of dental appointments. With proper care, this form of tooth replacement could last for a decade or longer.
Implant Bridges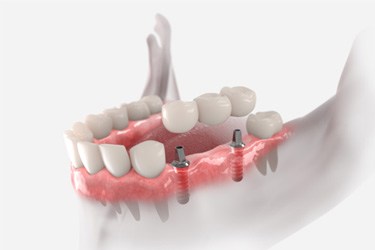 Dental implants are prosthetic tooth roots. They can be used instead of abutment teeth to support a bridge, and they are excellent for providing extremely sturdy tooth replacement. Plus, many patients love implant bridges because, unlike a traditional bridge, they usually do not require any of the nearby teeth to be modified.
The Benefits of Getting a Dental Bridge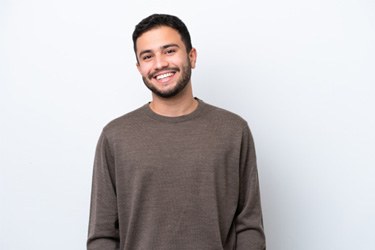 Here are some benefits you may enjoy when you replace your missing teeth with a dental bridge:
A bridge can serve as a placeholder and prevent your remaining natural teeth from drifting out of place./li>
You can expect to have a beautiful, natural-looking smile.
You will be able to eat without worrying that food may irritate the gums at the site of a missing tooth.
With proper care, a dental bridge can last for many years.
Would you like to learn more about dental bridges? Schedule your consultation at Capital Smiles today!
Dental Bridges FAQs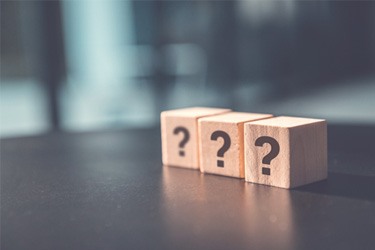 Dr. Page and our team are ready to help you replace your missing teeth with a dental bridge. Before your consultation, though, you may want to know more about what you can expect with this form of restorative treatment. To assist you, we have put together the following list of answers to frequently asked questions about dental bridges. If you do not see your specific question addressed, please reach out to us directly.
Can You Take a Dental Bridge Out?
No, you cannot. Dental bridges are designed as a permanent form of tooth replacement; they can only be removed by a dental professional.
Of course, you might have heard of a "removable bridge," but that is something of a misnomer. Usually, when people talk about removable dental bridges, they are actually mentioning partial dentures, which are designed to be taken out of the mouth with ease.
Is Getting a Dental Bridge Painful?
Dr. Page and our team want your treatment experience to be as comfortable as possible. When we are preparing teeth for a dental bridge or placing dental implants, we use sedation and anesthesia so our patients feel little to nothing.
Some soreness and/or sensitivity are to be expected after almost any dental procedure. We will give you instructions to help you cope with any discomfort. For example, we may urge you to alter your diet, get adequate rest, and take pain relievers as necessary.
How Many Teeth Can a Dental Bridge Replace?
A dental bridge can be used to replace up to four teeth in a row. Generally, though, they are used to replace just one or two. The longer a bridge is, the less stable it becomes. The risk of destabilization is lower with an implant bridge than a traditional bridge. However, a long implant bridge may need more than two implants to ensure that it functions well for many years.
How Do I Clean Under My Dental Bridge?
Cleaning beneath your pontics is important for maintaining your oral health and preventing gum problems. There are a few different methods you can use to clean beneath a bridge:
Use traditional floss. Place it through a floss threader, and then slide the pointed end beneath the bridge so you can use the floss to gently clean beneath your restoration.
Use an interdental brush. An interdental brush is a small tool that sort of resembles a Christmas tree. You can slide it beneath your bridge to clean your restoration and your gums.
Invest in a water flosser. A water flosser is a tool that shoots out a steady stream of water that can dislodge particles and bacteria beneath a bridge. You can adjust its pressure level to suit your needs.
If you need further guidance on how to clean beneath a bridge, you are welcome to ask our team during your next hygiene appointment.