Dental Implant Bridges & Dentures - Schenectady, NY • Capital District
Replace Several Missing Teeth At Once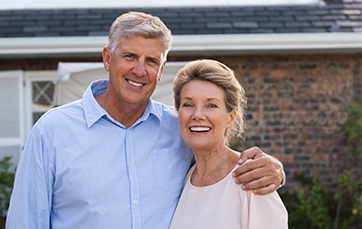 At Capital Smiles, Dr. Erin Page and Dr. Shiloh Lieberman can offer patients with multiple missing teeth a variety of strong, natural-looking replacements, but among the best are implant-retained bridges and dentures. These treatments resemble their traditional counterparts in appearance, but thanks to the assistance of dental implants, they're able to rebuild a patient's smile in a way that is more lifelike, durable, and comfortable. With them, your implant dentist can help you finally say "goodbye" to the gaps in your smile for good.
"After more than 30 years of incredible fear, I finally realized I had to something about my teeth (and health). Anyone who is terrified like I was should make an appointment with Capital Smiles. I needed surgery and sedation (both of which I had never experienced before) and they calmed my fears and treated me with such care."

Maurianne D.


Read More Reviews
The Advantages of Implant-Retained Bridges and Dentures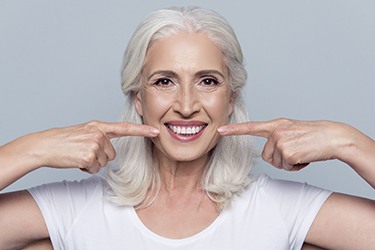 More and more patients and dentists around the country are choosing to use implant-retained bridges and dentures because they offer a number of unique benefits:
More Security: Because these restorations are held in place using titanium posts that are anchored directly into the jawbone, they will feel much more stable and secure than traditional bridges and dentures.
More Longevity: With the proper care, dental implants can be expected to last for 30 years or more, providing a solution you'll be able to rely on for decades to come.
More Bone Preservation: The implants themselves will reestablish internal support for the jawbone that other tooth replacements simply can't. This will prevent the bone degeneration that is common after tooth loss, helping facial structure maintain its natural shape over time.
More Function: Compared to traditional prosthetics, implant-retained bridges and dentures enable a patient to have a much stronger bite force, allowing them to enjoy a more varied and healthy diet with relative ease.
What is an Implant-Retained Bridge?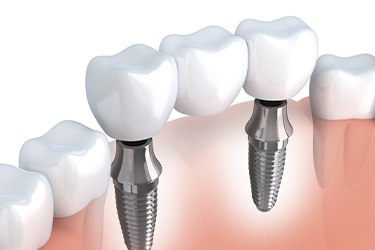 Just like with a regular bridge, an implant-retained bridge is used to replace a row of consecutive missing teeth. To do this, two implant-retained crowns will be placed on either side of the gap in a person's smile, and these will be attached to prosthetic teeth that will close the space. In addition to the benefits listed above, implant-retained bridges also don't require healthy teeth to be filed down in order to support the crowns, allowing Drs. Page and Lieberman to better preserve your natural tooth structure.
What are Implant-Retained Dentures?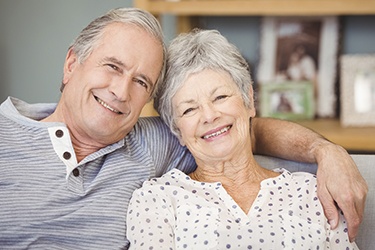 An implant-retained denture looks similar to a traditional one (a gum-colored acrylic base attached to prosthetic teeth), but it is secured using multiple dental implants located in the jaw. On the upper arch, the denture pallet may be removed when the denture is secured by four dental implants, making for a more comfortable and natural fitting prosthesis, called a horseshoe denture. The denture itself will simply connect to the implants to stay in place. Implant-retained dentures are typically smaller compared to regular ones, which tend to make them fit more comfortably in the mouth and provide more natural function.
Which One is Right for Me?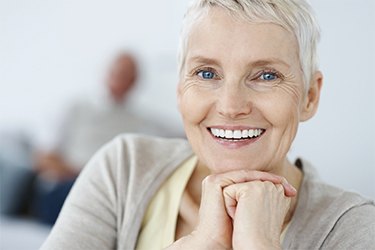 This is a decision best left up to you and your dentist. To begin the process of restoring your smile, you simply need to schedule a consultation at Capital Smiles. During this appointment, Dr. Page or Dr. Lieberman will examine your dental health, overall health, as well as the condition of your jawbone to determine which treatment options would be right for you. If you choose an implant-retained bridge or denture, we'll be able to perform the entire procedure from start to finish at our office. Before you know it, you'll be seeing a complete smile in the mirror every morning.
Get in Touch with Your Capital District Dentist!
These treatments have already helped millions of patients around the country with multiple missing teeth regain their smile and confidence, and they can do the same for you. To learn more about all the ways our team can help you reclaim your smile with Capital District dental implants, contact us today.