How Much do Dental Implants Cost? - Schenectady, NY • Capital District
A Complete Guide From Your Implant Dentists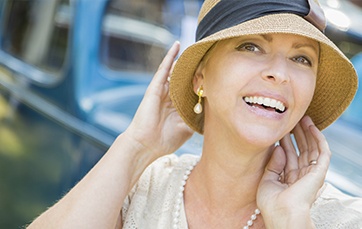 As with any dental procedure, cost is always a big factor that is on people's minds. If you're thinking about getting dental implants, you've probably seen a wide range of prices if you've done any research about them online, ranging from about $500-$6,000 per tooth! The truth of the matter is that there is no set cost for dental implants, and the final price can vary widely depending on a patient's particular situation and needs. Read on below to learn about all of the different factors that can affect the cost of dental implants in Schenectady.
"I had an extensive procedure that was 5 1/2 hours, with the staff and both dentists attending. Even though all of my upper teeth were removed, the procedure was painless. A new, permanent set was placed 36 hours later. Apart from a dull ache (which Tylenol and Advil have taken care of), I am ecstatic with my new smile and the great care!"

Joseph V.


Read More Reviews
The Type of Implants/ Restorations Used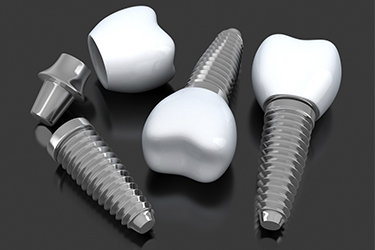 Dental implants can be used to restore a single tooth, multiple teeth, and even an entire mouthful of teeth if needed. Not only will the number of implants/restorations (the part that shows above the gum line) you require affect the overall cost, but where these materials come from matters as well. There are a number of manufacturers that provide various types of implants and their component parts…more than 60, actually.
When you come in for your initial implant consultation, Dr. Page and Dr. Lieberman will go over all of your options so you can determine the right type of implants, restorations, and abutments that fit both your oral health and budgetary needs.
The average price of a single traditional implant breaks down like this:
Dental Implant Post: $1,000-$3,000
Abutment and Crown: $1,000-$3,000
Total Cost: About $4,000 per implant
For a patient that is missing more than one tooth, your dentist may recommend that you get an implant-retained bridge. The price of this kind of restoration largely depends on how many teeth are missing and where in the mouth they are located. Overall, the average price of an implant-retained bridge can range anywhere from $8,000-$20,000.
And, for a patient who has lost an entire arch of teeth (or who plans to have all their remaining teeth along an arch extracted), our doctors can bring their smile back with an implant-retained denture using the All-on-4/All-on-6 procedure. These involve using 4-6 implants to support a full arch bridge, instead of replacing each tooth with an individual implant that would be prohibitively expensive and unnecessary.
Because of the extensive planning involved leading up to these procedures, including 3-dimensional imaging and treatment planning and fabrication of surgical custom guides, the surgical procedure itself is usually completed in just one appointment, including the placement of the implants and the attachment of the full arch bridge. The average cost for an All-on-4/All-on-6 procedure is about $22,000-$32,000 per arch.
The Need For Preparatory Procedures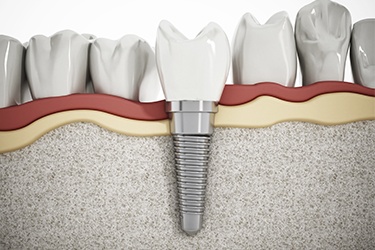 A patient may need to undergo bone grafting before implants can be safely placed. This is necessary when a patient's jawbone is too thin or brittle to support dental implants as it is. This is an essential first step for some patients.
Other preparatory procedures may include treatments to address an ongoing dental problem (such as gum disease) that could affect implant placement, or teeth may need to be extracted. This will be discussed with you before you begin treatment.
Insurance Coverage and Payment Options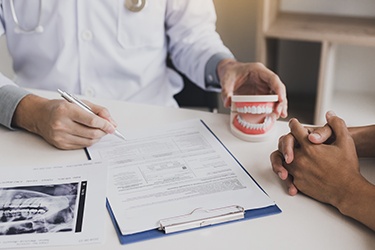 Many dental insurance plans currently do not provide coverage for dental implants, or a plan may require a patient to choose a less expensive tooth replacement such as a traditional bridge or denture. However, due to the overwhelming growth in popularity of implants and their reputation as the best long-term solution, more and more dental plans now offer benefits.
Third-party financing is also available at our office through CareCredit. We work with these companies to offer patients special financing for qualified applicants. Our team is ready to help arrange these or other options for you.
Possible Additional Costs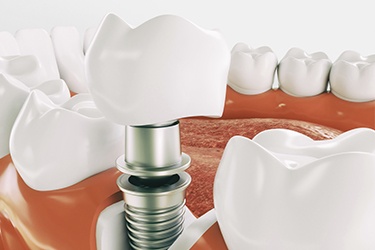 Several X-rays and diagnostic scans may be taken prior to your dental implant procedure, and these will be used to formulate your specific treatment plan. With them, Dr. Page and Dr. Liebrman can determine the best location for your implants within the jawbone while also avoiding sensitive nerves. These diagnostic procedures may add to the overall cost of your treatment; however these costs are often included in more extensive implant treatment plans such as All-on-4/All-on-6 procedures.
And of course, your comfort throughout the entire process is a top priority as well. During your implant placement procedure, we will use local anesthesia, but if you would like more help to feel comfortable in the chair, we can also provide a number of sedation options . With them, we can help calm a nervous patient's mind as well as protect them from any potential discomfort. We offer nitrous oxide sedation , oral conscious sedation (pill), and IV sedation. We can go over all of your options during a consultation so we can help you select the one that is best for you.
Why Do Dental Implants Cost So Much?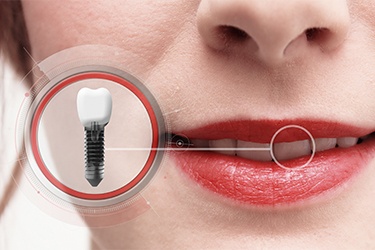 Just looking over this general guide, you're probably already noticing that dental implants tend to cost a bit more than other tooth replacements, such as traditional dentures and bridges. Why is this the case?
The reason that dental implants cost more than other options is pretty straightforward. The procedure to place them requires a lot of preparation and extreme precision from the doctor, which means they need to have a special kind of expertise. Our doctors, in particular, have taken endless hours of continuing education and have years of experience in the field of implant dentistry, giving them the kind of skills you simply won't find at your average general dentist.
Additionally, the materials used in implant dentistry are also very high quality. The posts are often made of titanium, which is not only extremely strong, but is also biocompatible, meaning it's able to integrate with the jawbone to form a firm foundation for the restorations. The restorations themselves are often made of 100% dental ceramic or zirconia, which is shaped and shaded by a dental lab to look and function like a real tooth in addition to fitting into a patient's unique bite.
Fortunately, when looking at the big picture, dental implants are actually the most cost-effective tooth replacement option available today.
The Value of Dental Implants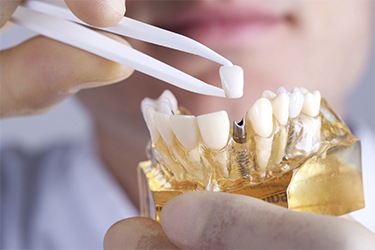 Longevity: With the proper maintenance (consisting of regular brushing, flossing, and dental visits), dental implants can be expected to last for about 30 years or more. This is much, much longer than other restorative options that typically need to be completely replaced every 7-10 years. While implants do cost more upfront, they tend to cost less over the long term, because for many patients, they are a one-time expense.
Jawbone Preservation: Dental implants can help prevent and even reverse the bone loss that is so common after tooth loss. This not only helps maintain the overall shape and appearance of the face, but it also helps a denture keep its original fit for much longer. Other tooth replacements can't do anything about this, meaning the bone is left to atrophy, which means the restorations need to be regularly replaced.
Increased Function: Dental implants are the closest thing Dr. Page and Dr. Lieberman can give you to natural teeth, both in appearance and function. For a patient in need of a full denture, a traditional removable prosthetic typically restores about 20% of their bite force, limiting most to a very restricted diet. Implant-retained dentures, however, have been shown to restore up to 70% of the bite, enabling a patient to enjoy a much wider (and healthier) variety of foods. As a result, those with dental implants tend to have better overall health because their nutrition is better as well.
No Denture Adhesives: Many denture patients require a large amount of adhesive to keep their teeth in place, but with dental implants, the teeth are anchored directly to the jawbone, saving a patient from having to deal with the sticky, odd-tasting denture adhesive.
Schedule an Appointment Today!
We gave you a lot of information on this page, but the key thing to remember is that all of the numbers here are averages, and the best way to figure out how much you as an individual will pay for implants is to come see us here at Capital Smiles.
During your implant consultation, Dr. Page or Dr. Lieberman will give you a brief oral exam and take some X-rays, and from there, they will be able to discuss what your procedure will be like and go over the associated costs. Once you have both decided on a plan of action, you can then work with our team to go over your financial options, including monthly financing. In the end, we'll help you find a plan that is both good for your smile and your wallet.
To schedule an appointment at Capital Smiles and take the first step to getting your smile back, contact us today.