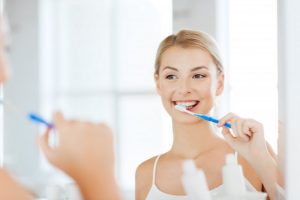 Oral health is one of the keys to maintaining your overall health and enjoying an optimum quality of life. But how can you protect your oral health? One of the primary ways is through excellent oral hygiene. A dentist in the Capital District is here to discuss why oral hygiene is so vital and outline some best practices to help you keep a clean and fully functional smile.
Why Oral Hygiene Matters
The human mouth contains many different types of bacteria. Most of the bacteria is harmless; some of it is even helpful and necessary. Other types, however, interact with foods and produce plaque. Plaque is a sticky, acidic substance that clings to teeth. If you do not take care to remove the plaque with brushing and flossing, it can easily lead to cavities, infections, and tooth loss. The plaque can even sneak beneath the gum line and lead to periodontal disease.
There are also aesthetic considerations to take into account. Without proper hygiene, you are likely to suffer from bad breath and significant tooth discoloration.
Oral Hygiene Best Practices
Here are some guidelines to help you make sure your oral hygiene routine is as effective as possible:
Brush your teeth twice a day. You should spend about 30 seconds cleaning each quadrant of your mouth. Don't forget to brush the backs of your teeth and the area along the gum line.
Floss once a day. Be sure to rub the floss along the sides of all of your teeth, rather than simply inserting the floss between the teeth and then removing it.
Drink plenty of water. Water rinses away bacteria and food particles. Staying hydrated also encourages saliva production.
Avoid harmful habits. Smoking cigarettes, chewing tobacco, and eating excessive amounts of sugar can all have a negative impact on your oral hygiene.
Visit your dentist regularly. Most people should have a cleaning and checkup twice a year, and many patients will benefit from one or two additional cleanings per year.
Need to Hit the Reset Button?
What if genetics, trauma, past missteps in oral hygiene, or other factors have already caused significant damage to your smile? You can still reap the benefits of an excellent oral hygiene routine. However, you may need to do more than just adjust your brushing and flossing habits. You might also need to talk to your dentist about repairing your smile. For example, if you have suffered tooth loss, you may benefit from full-mouth reconstruction with dental implants. Thanks to sedation and a skilled and experienced dentist, you can look forward to a comfortable restorative journey. After your procedure, you will be the proud owner of a fully functional, beautiful smile that you can protect with a diligent oral hygiene routine.
Clean, healthy teeth and gums are invaluable assets. Use the information in this article to set yourself up for many years of confident smiles and robust dental function.
About the Author
Dr. Erin Page is a general and restorative dentist who is proud to offer comprehensive services to patients throughout the Capital District. She enjoys helping her patients protect their teeth with preventive care, and she is also ready to help those who have suffered oral health damage with her full-mouth reconstruction services. To learn more about how Dr. Page and our team may be able to serve you, contact Capital Smiles at 518-374-0317.