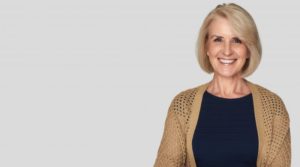 Traditional dentures can be both beautiful and functional. However, a common complaint about them is that they tend to slip out of place. Are you tired of dealing with the hassle and embarrassment of dentures that just won't stay put? Reliable denture stabilization in the Capital District is possible thanks to dental implants! in this blog post, you'll learn more about how dental implants can anchor your teeth in place and help you to enjoy the most natural-feeling smile possible.
Types of Implant Dentures
Implant-retained dentures, sometimes called overdentures, are removable prosthetics that easily "snap" onto and off of prosthetic tooth roots (dental implants). There are a couple different types of implant-retained dentures:
Ball-retained implant dentures. The dental implants have round small round "balls" on top of them. These fit securely into small recesses on the denture's underside.
Bar-retained implant dentures. A thin metal bar connects the dental implants, and it serves as the attachment piece for the dentures.
Some patients are candidates for a permanently fixed set of new teeth. This procedure, called All-on-4, uses as few as four dental implants to support a set of teeth that can only be taken out of the mouth by a dental professional.
How Does the Process Work?
The implant-retained overdenture process begins with a consultation, wherein your dentist will ensure that you have enough bone in your jaw to support dental implants. If you do, you'll undergo a minimally invasive surgery. The dental implants will be placed in your bone at strategic positions (usually toward the front of the mouth). Then, you'll undergo a healing process, during which the implants will form a strong bond with the surrounding bone.
Following that, your dentist will design your beautiful new denture or retrofit your existing denture to work with the implants. It might take you a bit of time to adjust to using your prosthetic and taking it in and out of your mouth. However, once you get the hang of it, you will be able to enjoy its full functionality.
Is It Worth It?
Traditional dentures may make you self-conscious about your speech, the way you eat, and your appearance. If any of those things concern you, it is certainly worth looking into implant-retained dentures. They provide a strong bite force and will not slip out of place whether you are chatting with friends or enjoying a hearty meal. Plus, the dental implants can even stimulate the jaw and help to prevent the bone deterioration that occurs after tooth loss.
Are you ready to say goodbye to denture slippage? The next time you visit your dentist, ask them about dental implants!
About Your Capital District Dentists
Drs. Shiloh Lieberman and Erin Page are both highly trained implant dentists. They are committed to providing truly excellent care, and they are always looking for opportunities to further their skills. Dr. Lieberman has even completed implant training at the world-famous Last Vegas Institute for Advanced Dental Studies. Together, Drs. Lieberman and Page have already helped many patients to say good riddance to their slipping dentures. To learn more about them and the implant services they offer, contact Capital Smiles at 518-374-0317.