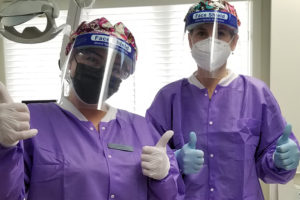 As COVID-19 restrictions begin to loosen up across the country, many dental practices are welcoming back non-emergency patients. However, the worldwide pandemic has made many people more conscious than ever before of the need to keep their surroundings clean. A clean environment is especially vital in medical settings, including dental offices. In this blog post, we'll discuss a few of the measures that the team at Capital Smiles is taking to promote infection control and sterilization in the dental office.
Personal Protective Equipment
Personal protective equipment is vital because it creates barriers between people and contagions that are invisible to the naked eye. However, we recognize that not all PPE is created equal. Every member of our team (even the front desk staff) wears an ASTM Level 3 mask, which provides the highest level of barrier protection. It is the same type of mask that is recommended for open heart surgery! Our clinical team also uses N95 masks, which have filters that can stop at least 95 percent of airborne particles, including ones that are as small as 0.3 microns. Additionally, face shields are used to catch any substances that the masks might miss.
Masks are not the only form of PPE that we use. We also use gloves. The type of glove depends on the activity we are doing. For example, utility gloves are best for use when washing dental instruments, but patient exam gloves are used during procedures. Disposable hats and coats are also part of our PPE arsenal.
Instrument Sterilization
We have advanced technology at our disposal that helps us ensure that any instrument we put into a patient's mouth is pristinely clean. For example, we use an autoclave, which exposes instruments to hot steam in order to kill viruses and bacteria. Before we place the instruments in the autoclave, we carefully clean off any visible debris and wrap them in special packaging so they will remain clean after the sterilization process.
Other Steps We Are Taking
Additional steps we are taking to ensure a clean and safe dental office include:
Frequently cleaning high-touch surfaces. We have changed our scheduling practices so we have time to thoroughly disinfect the operatories between each patient. We also perform a deep cleaning of the office every evening after closing.
Using protective plastic barriers on many surfaces. Barriers prevent debris and contagions from settling into hard-to-clean places, such as between the keys on a keyboard.
Diligent education. Our team members receive regular reminders on proper sterilization and infection control procedures. We hold each other accountable for adhering to the strictest guidelines, and we pay close attention to infection control recommendations from the CDC and other reputable organizations.
Our patients' oral and overall health is a top priority for the Capital Smiles team. We plan on continuing to safely serve you throughout the rest of the COVID-19 crisis and well into the future.
About the Author
Dr. Erin Page is a Capital District dentist who earned her DDS degree from University at Buffalo School of Dental Medicine in 2009. In the years since then, she has continued to hone her skills with the goal of providing truly comprehensive care to patients. She and her team are serious about protecting the health and well-being of our patients. To learn more about our in-office sterilization procedures, or to schedule an appointment, contact us at 518-374-0317.