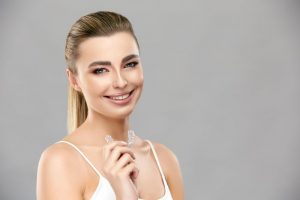 Perhaps your teeth are somewhat misaligned, and you are ready to get them straightened. You know you want the convenience of removable clear aligners, but perhaps you're torn as to which clear aligner system you should use. SmileDirectClub might sound appealing because it is an at-home treatment that has a relatively low price tag. On the other hand, Invisalign in the Capital District has been around for much longer and has an excellent reputation. In this blog post, we provide a comparison of these two treatments.
Effectiveness
Invisalign is carried out under the direction of a certified Invisalign dentist, someone who has undergone in-depth training to make them qualified to offer clear aligners. Therefore, the treatment is precise and personalized. The results are extremely predictable.
With SmileDirectClub, you are taking a gamble. You may be responsible for taking impressions of your own teeth (it's quite tricky to get impressions right if you have experience with them), and you'll never have a face to face consultation with a dental professional. Such factors greatly increase the likelihood that the aligners will not yield desirable results.
Safety
A dentist who offers Invisalign will be careful to make sure that your gums and teeth are healthy enough for clear aligners. They'll also give you personalized coaching on how to care for your teeth during your treatment period. They will closely monitor your treatment at periodic checkups to make sure everything is going smoothly.
If something goes wrong with your SmileDirectClub aligners, on the other hand, you might be tempted to just push through the discomfort — and you could end up damaging your teeth in the process. It is possible that they will end up in worse condition than when you started the treatment. In some cases, mail-orders aligners have caused irreversible damage to teeth.
Cost
SmileDirectClub comes with a lower upfront cost than Invisalign. However, SmileDirectClub could end up costing you more in the long run. That may happen if your mail-order aligners damage your teeth, or they are ineffective at correcting all of your alignment problems. Then, in addition to paying for SmileDirectClub, you will also have to pay a dentist or orthodontist to bring your teeth into proper alignment.
Weighing Your Options
Of course, the ultimate decision of how to straighten your teeth is a personal one. However, from the foregoing information, it becomes clear that Invisalign is a much safer, more predictable choice than SmileDirectClub. If you have any further questions about which option is better, talk to your dentist or orthodontist. They'll provide you with candid advice to help you make the best choice for your smile.
About the Author
Dr. Erin Page is a general dentist who has been a Preferred Invisalign Provider every year since 2013. She genuinely wants the best for her patients and is happy to give them personalized guidance on how to make good decisions for their oral health. If you would like to talk to her about your orthodontic options, contact our team today at 518-374-0317.