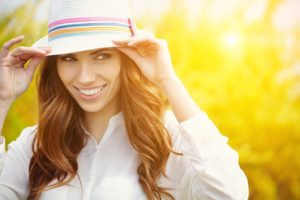 There is never a bad time to invest in dental implants in the Capital District, but summer may be an especially opportune time to replace your missing teeth. After all, with mask restrictions being lifted and a return to normalcy just around the corner, this season may be full of photo ops, backyard barbecues, and other enjoyable activities. Let's talk more about the benefits you can enjoy this summer and well into the future when you choose to fill in the gaps in your smile.
A Natural Appearance
Traditional forms of tooth replacement, especially dentures, do not quite measure up to the beauty of natural teeth. However, dental implant restorations (the artificial teeth that get attached to dental implants) are carefully crafted to look as natural as possible. Onlookers are unlikely to be able to distinguish them from real teeth.
Strong Chewing Power
Some classic summertime foods are difficult to eat without a full set of teeth. For example, you might hesitate to accept an offer of corn on the cob, a grilled steak, or gooey s'mores. Dental implants offer a strong bite force that can equip you to eat virtually any food without taking special precautions.
Maintain a Youthful Appearance
Following tooth loss, the bone that once held the teeth in place begins to deteriorate. Eventually, this process can cause the jaw to shrink and lead to a sunken facial appearance, thereby making you look older than you really are. Dental implants stimulate the jawbone and help to keep it strong and whole.
Different Treatment Options Available
It must be acknowledged that you won't be able to enjoy all the benefits of dental implants right away. The complete treatment process typically requires at least a few months. However, depending on your unique circumstances, you might be able to get an immediate restoration for your implants, so you can regain a natural-looking smile relatively quickly.
A Convenient Process
Many people find that they  have a bit more free time during summer, perhaps because the kids are out of school or because they want to use most of their vacation time before colder weather sets in. Why not use some of your free time to replace your missing teeth? Most people are feeling well enough to resume their normal routine within a few days of their initial dental implant surgery, so you will still be able to enjoy your summer fun to the full.
What are your plans for this summer? Replacing your missing teeth with dental implants can set you up for season after season of good food, excellent oral health, and confident smiles.
Meet the Practice
Drs. Shiloh Lieberman and Erin Page are the dental experts at Capital Smiles. Both of them have completed advanced training in dental implant treatment; they are able to help patients replace one tooth, a few teeth, or even all of their teeth. If you are curious about how dental implants may be able to benefit you, contact our team at 518-374-0317.