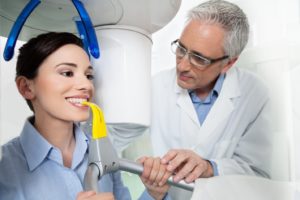 Successful dental implant treatment depends on numerous factors, including a dentist's skill and the technology at their disposal. If you are thinking about getting dental implants, it is important that you partner with a practice that checks all the right boxes. In particular, you should seek out someone who uses a cone beam scanner, otherwise known as a CBCT scanner. Let's talk more about this remarkable technology and the role it may play in your treatment.
What Is a CBCT Scanner?
CBCT stands for cone beam computed tomography. That sounds like quite a mouthful, but it's actually fairly easy to understand what the machine does. It uses a cone-shaped beam of radiation (the same type of radiation used by traditional X-Rays) to produce a three-dimensional representation of the area it scans. It is similar in some ways to a regular CT scanner, but it uses less radiation. It can allow your dentist to gain a deep understanding of your oral anatomy, including your bones, teeth, nerves, and connective tissues.
Unlike regular X-Rays, dentists do not take CBCT scans at routine appointments. They reserve the machine for instances when they are planning complex or extensive treatments, such as root canal therapy or dental implant placement.
The Role of CBCT Scans in Dental Implant Treatment
CBCT scans play an important role dental implant process. The scan allows your dentist to identify precisely where the dental implants should go, as well as tell them whether you have any anatomical abnormalities that might pose a challenge during your surgery.
Does this mean that it is impossible to place dental implants without a CBCT scan? No. Some dentists choose not to recommend a scan. However, there are some significant risks involved with that. For example, the dentist might accidentally place the implants in a way that increases your risk of complications. CBCT scans are the generally accepted imaging standard for preparing for dental implant placement.
Your dentist might also recommend a CBCT scan after you receive your dental implants. The scan can reveal whether successful osseointegration (bonding of the jawbone with the implants) has taken place.
Choosing the Right Dentist
CBCT machines represent a significant expense for dentists, and not all practices have the financial or physical space for one. However, many conscientious practitioners who do not have a CBCT refer patients to another practice to get scanned. With that being said, keep in mind that it is more convenient (and possibly cheaper) to partner with a dentist who has an in-house CBCT.
An implant dentist with a cone beam scanner may be the best person to restore your lost teeth! This remarkable piece of technology may be a key in helping you enjoy a healthy, complete smile.
Meet the Practice
Drs. Shiloh Lieberman and Erin Page are the experienced implant dentists in our practice. They are committed to using state-of-the-art technology in order to produce reliable outcomes for patients. A cone beam scanner is just one of the remarkable devices in our office. To learn more about our team and the technology we use, contact Capital Smiles at 518-374-0317.